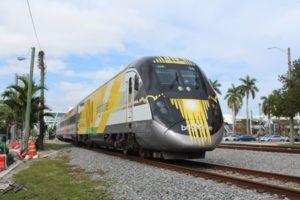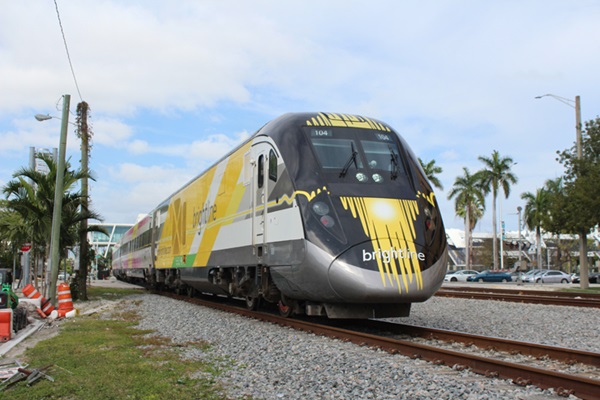 MIAMI — Although a planned private activity bond sale to help finance Brightline's proposed Southern California-Las Vegas, Nev., route has been delayed, long-term investors weren't deterred from snapping up $950 million in the company's Florida bond offering just before Christmas.
The bond sale for the western project — and the project itself — have been pushed back because a market for those bonds failed to materialize [see "Las Vegas high speed project postponed because of inability to sell bonds," Trains News Wire, Nov. 1, 2020].
On the other hand, the Florida offering was oversubscribed, financial observers tell Trains News Wire. The "Series 2019B (Green Bonds)" sold Dec. 23, 2020 represent an unrated non-municipal-bond, tax-exempt transaction second only to Brightline's previous 2019A private activity bond issue. Those funds helped finance rail construction now underway between West Palm Beach and Orlando International Airport. Dividends from the 2019B's are payable semi-annually at a fixed rate of 7.375%, with the first payment on July 1, 2021. The bonds are set to mature in 2049.
The 1,334-page Limited Remarketing Memorandum for the new bonds, like most documents describing how a company intends to apply funds, directs potential investors to a long list of risk factors.
It includes a warning that, "As the company has suspended its passenger rail service, there can be no assurance as to the timing of resumption or the frequency or level of service that will be provided once it resumes service," and that "the recent [COVID-19] outbreak could materially adversely affect the travel and tourism industry in general, and the company's business and financial condition and results of operations."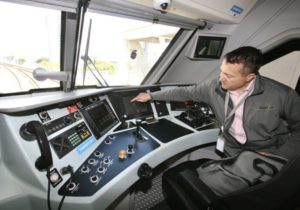 That said, the memorandum reveals a number of details about Brightline's operations and plans not previously disclosed. Among them:
— The original five Siemens 4-car trainsets with Charger locomotives at each end cost $264 million.
— Five additional, similarly-configured trainsets, plus an additional locomotive, are being acquired for $162 million. Brightline expects delivery of the first new trainsets in September of this year, with the fifth in early 2023, after service to Orlando is slated to begin at the end of 2022.
— Adding a cafe car to the consist is not mentioned, but a Brightline source tells Trains News Wire that the company has an option to add them for the longer journey
— Service to the Disney Springs station is set to begin in "the second half of 2023, subject to right-of-way acquisition, permitting, final design, and engineering" and is expected to add 800,000 passengers by 2024.
— The Disney extension is estimated to cost $300 million, with two-thirds financed by the bonds
— Including Disney and the three new stations planned south of West Palm Beach at Boca Raton, Aventura, and PortMiami (but not the contemplated Miami commuter operations), total ridership in 2024 is pegged at 3.1 million, with an average fare of $102.
— Installation of Wabtec's I-ETMS positive train control system throughout the entire corridor is listed at $22 million. An early plan called for retention of Florida East Coast's existing PTC-compliant E-ATC signaling for 79-mph operations south of West Palm Beach, but utilizing I-ETMS throughout avoids fixed blocks. This increased flexibility will mitigate the impact of the new stops by decreasing travel time.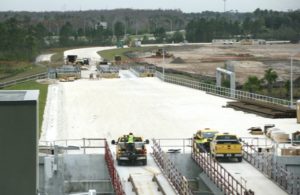 When Trains News Wire toured the Brightline operation in February 2020, before service was suspended the following month, the company was completing FRA-mandated tests of the E-ATC system. The lack of revenue service since then has allowed conversion to I-ETMS south of West Palm Beach without impacting customers during the installation and subsequent testing, which has recently resumed.
Also ongoing are exploratory talks with Orlando commuter operator SunRail and the Florida Department of Transportation regarding right-of-way planning west of Orlando International Airport, according to Brightline Senior VP of Corporate Affairs Ben Porritt.
"We're engaged in discussions seeking a resolution of support from SunRail Commission members to join our environmental and engineering analysis of the route to Tampa, which we are getting ready to launch," he tells Trains News Wire.
The Orlando commuter operation in the past has expressed interest in possibly extending service to the airport, and Brightline plans to use an existing Orlando Utilities Commission rail right-of-way to SunRail's Meadow Woods station. From there, Brightline tracks would continue to Disney Springs, and there has been speculation that SunRail might be interested in involvement with that connection as well.
Porritt says the company is also in active discussions with Florida's Department of Transportation as reconstruction plans continue to be modified for Interstate 4, whose wide median will be utilized to facilitate Brightline's extension to Tampa.
The complete bond offering document is available here.