ERIE, Pa. — At first glance the 111-year-old locomotive plant built by General Electric in Erie looks no different, but new signs emphasize GE is no longer part of Erie. A new era has begun.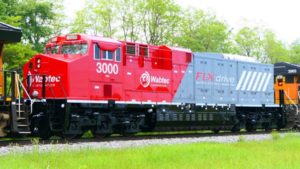 So what is happening in Erie more than a year after Wabtec took control?
The biggest change includes the integration of work formerly handled by Wabtec's Motive Power Industries plant in Boise, Idaho. This became evident last year when Massachusetts Bay Transportation Authority F40PH-2Cs, originally sent to MPI, were redirected to Erie. Subsequently, units for which rebuilding had begun in Boise arrived on flatcars to be completed in Erie. They will emerge as F40PH-3Cs. Sources say the first of the locomotives to be completed in Erie will be tested this summer.
Also redirected from Boise to Erie is the rebuilding of Brookville BL20GH locomotives for Metro-North and the Connecticut Department of Transportation. MPI was the winning builder for overhaul of the fleet, built 12 years ago, and completed the first locomotive, CDOT No. 125, last summer. CDOT No. 130 is currently being rebuilt and No. 127 is in Erie. Work will include replacement of the original prime mover with a Tier 3-compliant QSK50 engine.
The Erie plant will also handle the MPI-designed MP54AC locomotive built for commuter rail agencies. Earlier this year, MP54AC No. 678 from Toronto's GO Transit arrived in Erie for testing, which began in May.
Work also continues on GECX 3000, billed as the first all-battery-powered road locomotive. [See "Wabtec has high hopes for battery-electric road unit," Trains News Wire, Sept. 24, 2019.] The unit, which has undergone rigorous testing, has now debuted in its Wabtec demonstrator paint scheme after doing its earlier testing in gray primer. Wabtec sources say it is on target for testing on BNSF this fall.
The company also continues addressing projects predating the transition, including a 100-locomotive order for ES30ACis for Egyptian Railways. This order, with all 100 locomotives U.S.-built, is the first Egyptian order for GE/Wabtec products in nearly 10 years' they will now dominate the railroad's fleet. The final units will be completed in June and will ship this summer. Most foreign-order locomotive will continue to be built in Erie; construction for other foreign orders will begin this summer.
While domestic orders for new locomotives continue to slump for all builders, fleet modernization projects continue for several railroads. Currently, Union Pacific and Norfolk Southern fleet work is mostly at the plant in Fort Worth, Texas, while a small order of CSX CM44ACs and AHs is being handled in Erie. This work can be shifted between plants as needed.