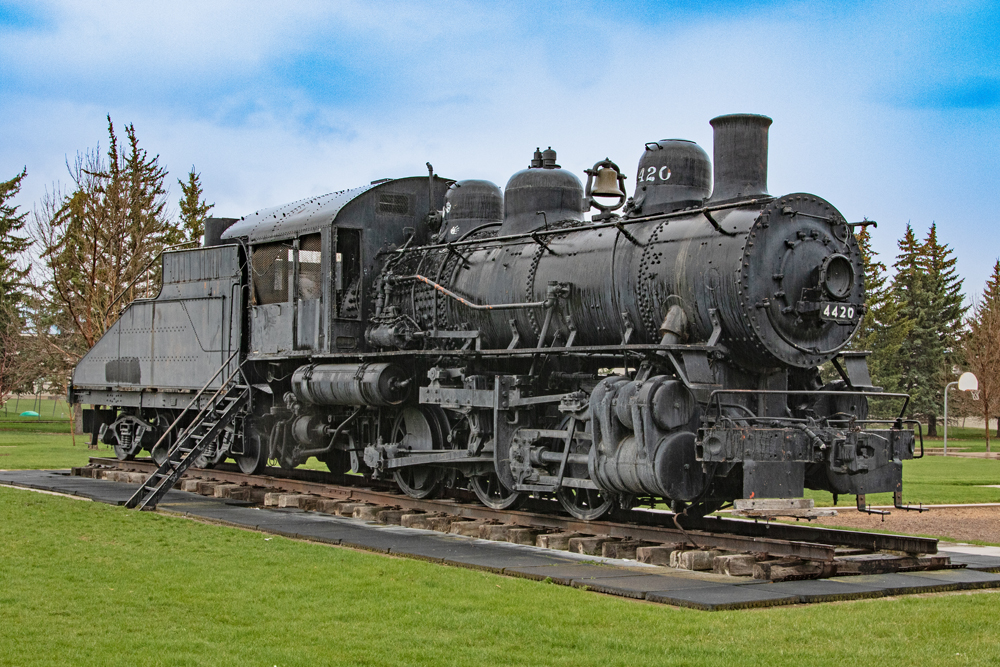 ---
EVANSTON, Wyo. — While restoration of Union Pacific Challenger No. 3985 and 2-10-2 No. 5511 in Silvis, Ill., has grabbed headlines, there are at least two other Union Pacific steam locomotives currently undergoing return to operating condition.
One that has really flown under the radar is UP S-4 Class 0-6-0 No. 4420 at the UP roundhouse museum in Evanston, Wyo. The locomotive was moved from a city park into the roundhouse in 2021. The Evanston historic preservation commission, in partnership with Engine Committee 4420, is working on the restoration. The all-volunteer effort is relying on private donations to fund the project. The locomotive has been disassembled and the boiler and firebox have been ultrasonically tested to verify thickness at various crucial areas, with no condemning wastage noted. Volunteers generally work Tuesdays and Thursdays on the locomotive.
No. 4420 was built by Lima Locomotive Works in 1914 as No. 1271. It was renumbered 4420 in 1915. It worked in the Evanston yard for 43 years before being retired in 1957 and donated to the city in June 1958. It went on display on the courthouse lawn and was later moved to a park play area near North Evanston Elementary School, where it was displayed before being moved into the roundhouse. For more information or to donate to the restoration, please visit this website.
Union Pacific 2-8-0 No. 428 is the current major restoration project in the Illinois Railway Museum's Steam Shop in Union, Ill. UP 428 and has been undergoing restoration for some time. Significant work has been done on the locomotive's boiler, running gear, tender, cab, and appliances. Currently the focus of work is the running gear and cab.
The locomotive was built in 1900 by Burnham, Williams & Co., a predecessor of Baldwin, as No. 1648. It was renumbered 428 in 1915. No. 428 gained a measure of fame in October 1958 when it was assigned to the Grand Island–Ord, Neb., mixed train, the last steam-powered regularly-scheduled passenger service on the Union Pacific. In 1959 it was donated to the Heart of America Railway Museum at Independence, Mo., where it remained until being sold to IRM in 1969.
Donations are being accepted at this page on the IRM website.