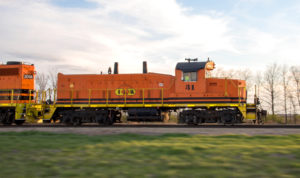 MONTICELLO, Ill. — One of the only two RS1325s built by Electro-Motive Division, Illinois & Midland No. 31, has been acquired by the Monticello Railway Museum. The museum purchased the diesel from Larry's Truck and Electric, the Ohio firm that rebuilds, resells, leases, and scraps locomotives.
The museum announced the addition of two locomotives to its collection on Saturday. The other, Illinois Terminal Railroad SW1200 No. 784, was acquired from Knoxville Locomotive Works.
The RS1325s, built in La Grange in 1960 for the Chicago & Illinois Midland, have been on the radar of two Illinois museums for possible preservation. Chicago & Illinois Midland officials at one time entertained the idea of donating one to the Monticello museum, and the other to the Illinois Railway Museum in Union, Ill.
Illinois & Midland No. 31 became available after the Genesee & Wyoming operation stored it earlier this month, pending shipment to Larry's Truck and Electric in McDonald, Ohio. Its replacement, GP15-1 No. 1550, had arrived at the Creve Coeur, Ill., shops of another G&W property, the Tazewell & Peoria, in late September.
"The RS1325 has long been a bucket-list item for MRM," museum member Bill Crisp says. "Our mission has been to preserve railroad history in central Illinois. The 31 had been in service for 60 years exclusively in central Illinois. Not only is it a rare locomotive, but its ties to central Illinois railroad history are also undeniable."
The locomotive has personal significance for Crisp, as well.
"For me, this is full circle," he says. "My first locomotive rides were on 30 and 31 growing up in Taylorville." Crisp, a Norfolk Southern engineer for 26 years, credits those early rides for sparking his railroad career.
The second RS1325, No. 30, is reportedly still active on a G&W railroad in North Carolina, the Atlantic & Western.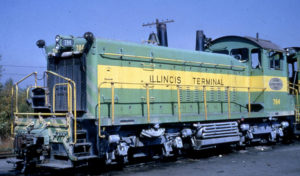 The Illinois Terminal SW1200 has its own significance for the Monticello museum.
"The museum is excited to acquire a locomotive that actually ran on our right-of-way," says Riley Kloepfer, the museum's project manager on both acquisitions. "It operated a University of Illinois Illini Chapter fan trip in 1958 through Monticello. We are excited to get her back on home rails.''
Plans are for both locomotives to be repainted into their original colors, when funding and donations allow.
"I would have hated to see them go away," says Kent McClure, the museum's chief mechanical officer. "They are certainly unique units.''
Donations to assist with the restoration of these historic locomotives can be made via GoFundMe or mailed to Monticello Railway Museum, P.O. Box 401, Monticello, IL 61856-0401. The museum website and its Facebook page offer more information and will provide progress reports on the two locomotives and other projects.
The Monticello Railway Museum is an all-volunteer 501(c)(3) non-profit organization, dedicated to preserving and interpreting the history of railroading.