Minnesota steam locomotive: Duluth, Missabe & Iron Range 2-8-0 No. 332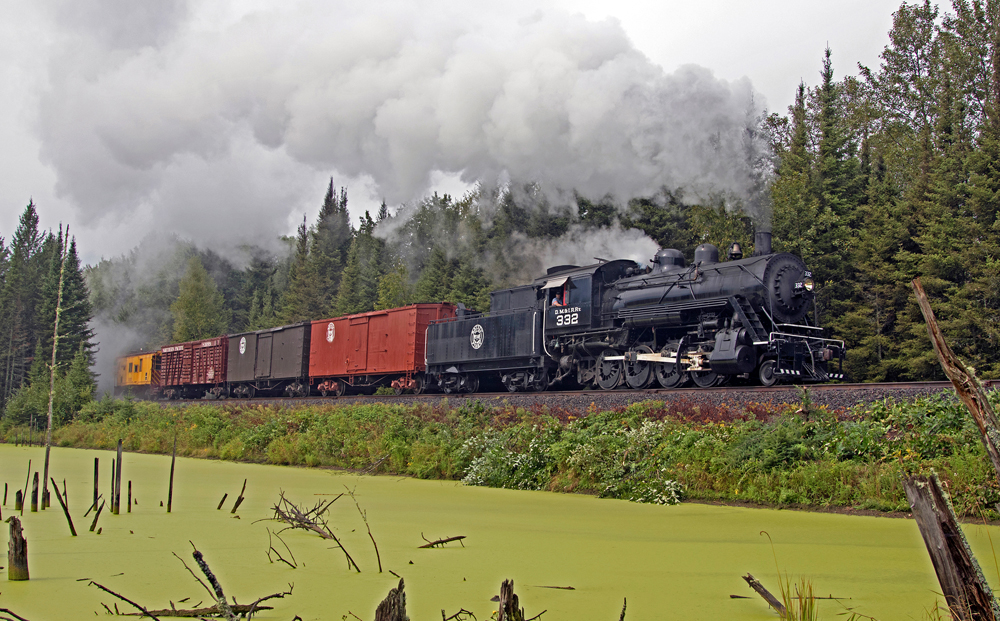 ---
DULUTH, Minn. — The continuing saga of the on-again off-again operation of Lake Superior Railroad Museum's Duluth, Missabe & Iron Range 2-8-0 No. 332 appears to be "on" again. Throughout this summer the locomotive has been under repair, with staybolts being replaced and another hydrostatic test made under Federal Railroad Administration supervision. Problems with the 2-8-0s leaf springs and tender truck bolsters have also been corrected.
No. 332, on display at the museum since 1974, was returned to service in 2017 and operated several times until 2019. Plans to run it in 2020 were abandoned due to the COVID-19 pandemic. Inspections to return the locomotive to service in 2021 led to the discovery of problem welds that were repaired, but the engine did not run that year.
In 2022 the engine was fired up and set to run again in September, when problems with the leaf springs and tender truck bolsters were discovered, preventing its return to service. While correcting those problems, the museum took the opportunity to do some additional boiler work using Fraser Shipyards of Superior, Wis. Founded 130 years ago, Fraser has worked on Great Lakes ship boilers for decades and has occasionally done work on steam locomotives and other high-pressure boilers.
Museum Executive Director Ken Buehler told Trains News Wire that a test fire-up under FRA supervision will occur before the end of September. If the locomotive passes the test, several test runs will be made. Buehler said the museum hopes to have No. 332 pull a few trips to Two Harbors on the museum's North Shore Scenic Railroad before the season ends in October. There won't be any special announcement or extra ticket charges when the engine runs, Buehler said: "People will just get a surprise that a steam engine will pull their train."
American Locomotive Co.'s Pittsburgh Works built the engine in 1906 for the Duluth, Missabe & Northern as No. 332. It was operated by DM&N successor Duluth, Missabe & Iron Range Railway as No. 332 until 1955, when it was sold to short line Duluth & Northeastern of Cloquet, Minn., and renumbered 28. The locomotive remained in service on D&NE until 1964. It was donated to the museum in 1974. In 2019 it was restored to its DM&IR appearance and renumbered back to DM&IR No. 332.