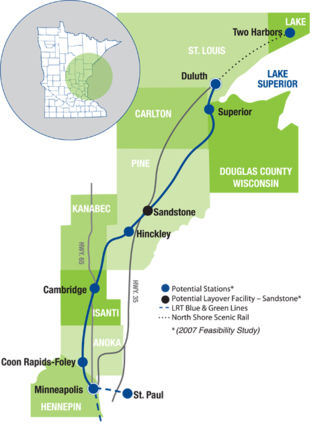 ST. PAUL, Minn. — Minnesota's state Senate has blocked efforts to launch passenger rail service between the Twin Cities and Duluth, passing a budget amendment by a senator who said the idea was "like asking us to spend money on buggy whips."
Minnesota Public Radio reports the amendment by Sen. David Osmek (R-Mound, Minn.) prohibits the state transportation commissioner and the Metropolitan Council, the governing body for the Twin Cities region, from spending any money on the proposed Northern Lights Express.
The amendment passed by a 35-31 vote; a larger funding bill then passed 40-26.
Osmek called the idea "a 19th century solution to transportation in Minnesota."
The Senate vote came less than a week after the state House passed a bill with $51 million in funding for the Duluth passenger project.