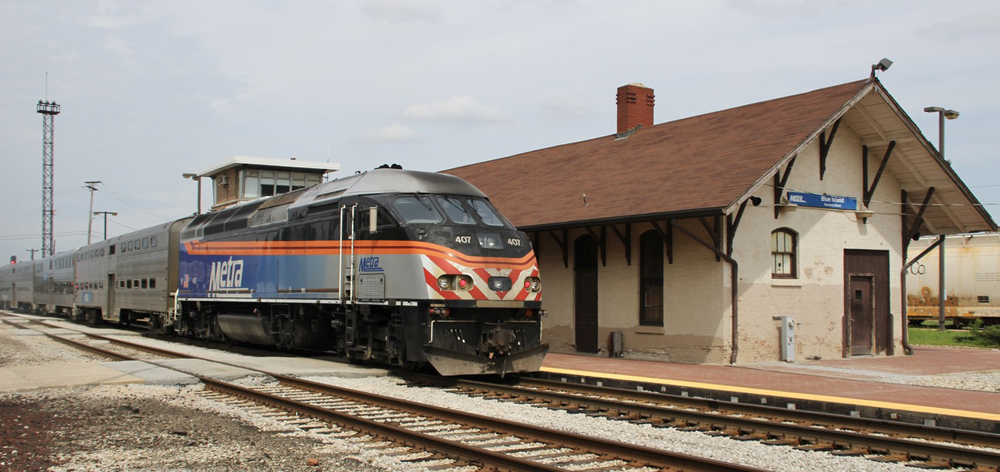 ---
BLUE ISLAND, Ill. — Metra has broken ground on a $3.8 million rehabilitation of the Vermont Avenue station in Blue Island, a structure dating to 1868 on Metra's Rock Island District.
A Thursday, July 28, ceremony including Metra CEO Jim Derwinski and other state and local officials marked the start of a project including a complete interior renovation; roof repairs, including replacement of gutters and downspouts, as well as rehabilitation of wooden eave supports; reconstruction of the original chimneys; brick replacement and other masonry work; new landscaping; and improvements to meet Americans with Disabilities Act compliance.
"This project will create a more welcoming, more comfortable facility for riders of the Rock Island Line while retaining its historic nature," Derwinski said in a press release. "The result will be an improved riding experience for My Metra customers."
Work is scheduled to be completed this fall. Total cost is $5 million, including $1.2 million in design costs. It is being funded by the Federal Transit Adminstraiton, Metra, and the Regional Transportation Authority.
The structure at 2300 West Grove Street is located at a convergence of Metra lines. In addition to serving as a stop on the Rock Island main line, it is the southern endpoint of the Beverly Branch, which offers stops with streetcar-like frequencies in Blue Island, Morgan Park, and Beverly Hills. Additionally, the end of the Blue Island Branch of the Metra Electric District is just across Vermont Avenue.
The brick structure was built by the Chicago, Rock Island & Pacific, replacing a small wood-frame structure built in 1852. According to the City of Blue Island website, its lengthy history includes the stationing of federal troops at the building in 1894, after disturbances broke out in adjacent railyards among sympathizers of the Great Pullman Strike.