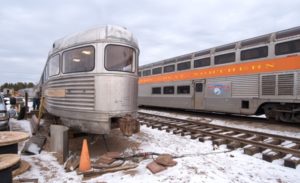 By: Steve Smedley
TREGO, Wis. — As winter holds an icy grip on Northwestern Wisconsin, the restoration of the Wisconsin Great Northern Railroad's Mark Twain Zephyr continues. One of nine Zephyrs built by the Budd Co. for the Chicago Burlington & Quincy Railroad, the Wisconsin Great Northern acquired the train last year and is restoring it to operation.
Boat-tail observation-lounge-parlor car No. 573, the Tom Sawyer, is the focus of current interior restoration work. After a thorough interior cleaning, windows have been installed, with electric heat allowing work to continue through the winter months. Electrical cable runs and a new electrical control cabinet have also been added.
Carpentry is nearing completion, along with lighting and a paint scheme closely representing the original scheme. Researching exact colors has been difficult since few interior color photos have been located.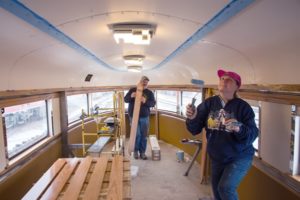 "We are going to give it every bit of Zephyr flavor as we can, using Zephyr floor plans and interior colors and decoration that befits the Zephyr period,', said Wisconsin Great Northern president Greg Vreeland.
Robert Tabern, the railroad's director of passenger development, has been able to locate and acquire several items including the original Mark Twain end medallion [see "'Mark Twain Zephyr' medallion followed long road to rejoin train," Trains News Wire, Nov. 2, 2020].
"After 60 years of being in private ownership. I am glad to see the Mark Twain Zephyr is getting the respect and place in history that it deserves," Tabern said. "I am proud to be part of Greg's team who took on and will accomplish this project. It gives us all hope in a year when there has not been a lot of positive news out there.''
The train was trucked to Trego from Madison, Ill., in fall 2020. The railroad has said it aims to complete the restoration this year.