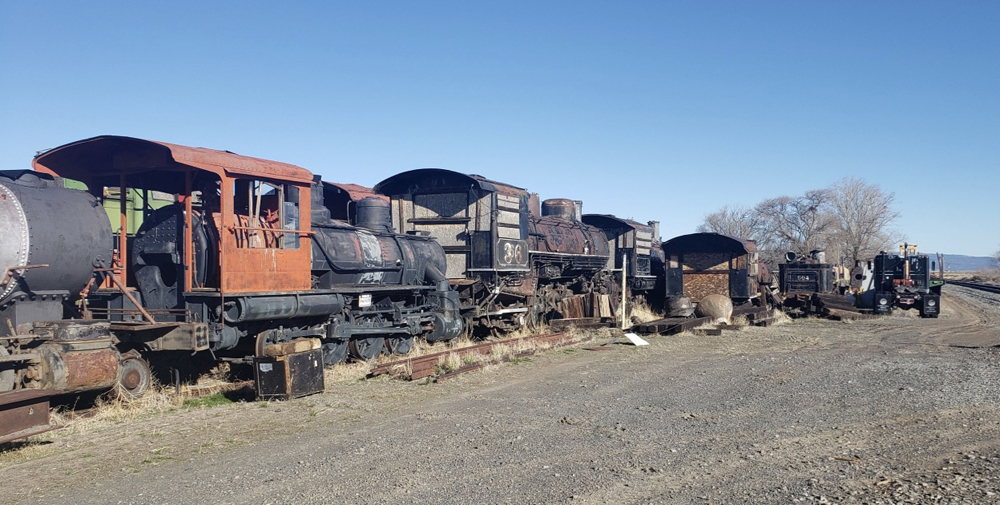 ---
MERRILL, Ore. — What is perhaps the single largest private collection of steam locomotives, mostly from the western U.S., has been sold and will soon be dispersed following the death of its long-time owner.
The Fred M. Kepner collection of 14 steam locomotives and other railroad equipment has been purchased by the Oregon Coast Scenic Railroad in Garibaldi. Some of the collection will be retained by Oregon Coast Scenic and shipped to its facilities in Tillamook County, Ore. The rest will be sold to other appropriate preservation organizations.
"We are all very excited at the opportunity to expand our equipment roster and vision for the future of our organization," says Oregon Coast Scenic Chief Mechanical Officer Scott Wickert. "The locomotives that we are bringing home will provide more diversity to our collection. I'm personally thrilled to be able help preserve Fred's legacy and make sure the locomotives find good homes."
Kepner, 74, passed away in October 2021.  He had spent his life collecting steam locomotives, starting in the 1970s. Twelve of the engines are stored in Merrill, Ore., and others are stored off-site.
At his passing, Kepner owned the following at Merrill:
— McBryde Sugar No. 4, 0-6-0, 30-inch gauge, Baldwin 1900, construction No. 17686, with five associated flatcars;
— Oregon-American Lumber No. 105, 2-6-2, standard gauge with tender, Baldwin 1925, Construction No. 58193;
— Oregon-American Lumber No. 104, 2-6-2T, standard gauge, Baldwin 1923, Construction No. 56851;
— Glen Alden Corp. No. 28, 0-4-0, 36-inch gauge, Vulcan 1918, re-boilered;
— Long Bell Lumber No. 4, 2-6-2, standard gauge, Baldwin 1907, Construction No. 31152;
— Oregon Pacific & Eastern No. 1, 2-6-2T, standard gauge, Baldwin 1925, Construction No. 59206;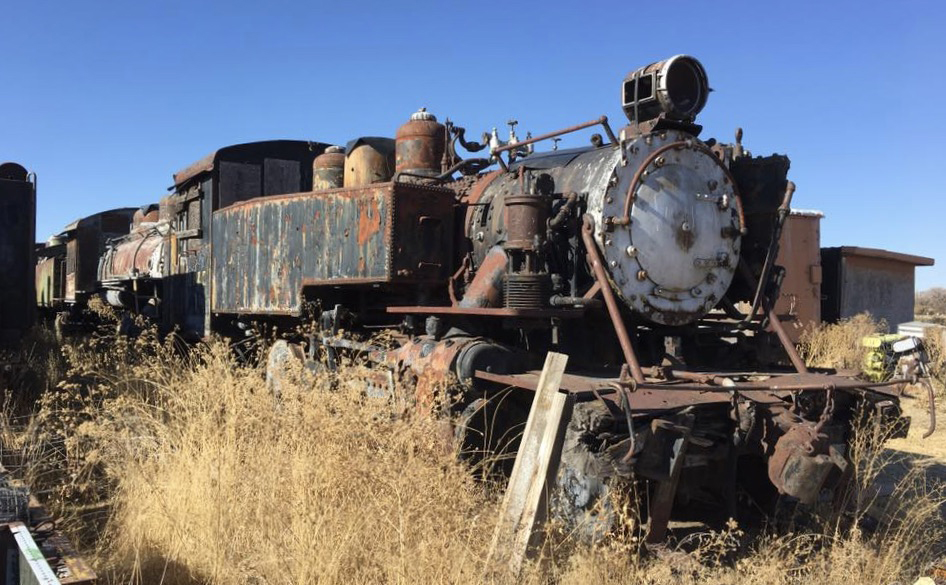 — Sierra Railroad No. 38, 2-6-6-2, standard gauge, Baldwin 1934;
— Great Northern No. 1246, 2-8-0, standard gauge, Baldwin 1907, Construction No. 32297;
— Sierra Railroad No. 18, 2-8-0 (no tender), Baldwin 1906, Construction No. 29790;
— Sierra Railroad No. 36, 2-8-2, Alco 1930, Construction No. 68278;
— Pickering Lumber Corp. No. 8, 3-truck Shay, 1924, Lima, Construction No. 3254;
— Charles McCormick Lumber No. 100, 2-8-2, standard gauge, Baldwin 1925, Construction No. 59284;
— Southern Pacific wrecking crane No. 7180, Bucyrus 1926, Construction No. 4535; 160-ton with idler car and tool car
He also owned the following at off-site locations:
— Bonhomie & Hattiesburg No. 300, 2-8-2, Baldwin 1925, Construction No. 58241, in Mississippi;
— Sierra Railroad No. 34, 2-8-2, Baldwin 1925, Construction No. 58679, in Jamestown, Calif.;
—Weyerhaeuser Timber Co. No. 101, Baldwin DS4-4-750 diesel; Construction No. 74814, in Klamath Falls, Ore., with coach;
— Pickering Crane No. 2, American No. 1305 "Logger Special," 1925, in Jamestown, Calif.
Oregon Coast Scenic will keep four locomotives: Pickering Shay No. 8; Sierra 2-6-6-2 No. 38; and the two Oregon-American Lumber locomotives, 2-6-2T No. 104 and 2-6-2 No. 105.
The locomotives to be moved to Tillamook County will form the Fred Kepner Memorial Collection in a museum setting, in addition to existing excursions. Oregon Coast Scenic operates McCloud No. 25 and three Harriman coaches that Kepner previously owned.
Proceeds from the sale of the locomotives not moved to the Oregon Coast Scenic will be used to pay to relocate the locomotives moved from Merrill to Tillamook, about 330 miles. The final list of what will be available is in the works. Queries about purchasing locomotives in the collection should be directed to Oregon Coast Scenic General Counsel Martin E. Hansen in Bend, Ore.
Kepner worked for a time at a tourist railroad in New Jersey.  After that, he worked odd jobs on and off while he collected locomotives.
He started the Great Western Railroad Museum with hopes of operating on California's McCloud Railroad. He restored McCloud River 2-6-2 No. 25 to operation as part of this plan in 1983. As he started running No. 25 on the McCloud, he began moving his collection there to launch an operating railroad museum.
In the late 1980s a change in McCloud management put an end to that plan and Kepner had to find a new home for his collection. He moved some of the collection to Chiloquin, Ore., and some (like Sierra No. 38) remained on a leased piece of track at McCloud.
During the 1980s and early 1990s, Kepner added a few more locomotives.  About 25 years ago, he leased Union Pacific property in Merrill and moved the bulk, but not all, of the collection there. It remains there today.
Oregon Coast Scenic crews have spent several weeks securing the Merrill site to protect the locomotives. Smaller movable pieces have been removed and stored securely.
— Updated at 1:20 p.m. CST to correct identification of OP&E No. 1 in caption; updated and revised at 5 p.m. CST with information on locomotives Oregon Coast Scenic plans to keep.