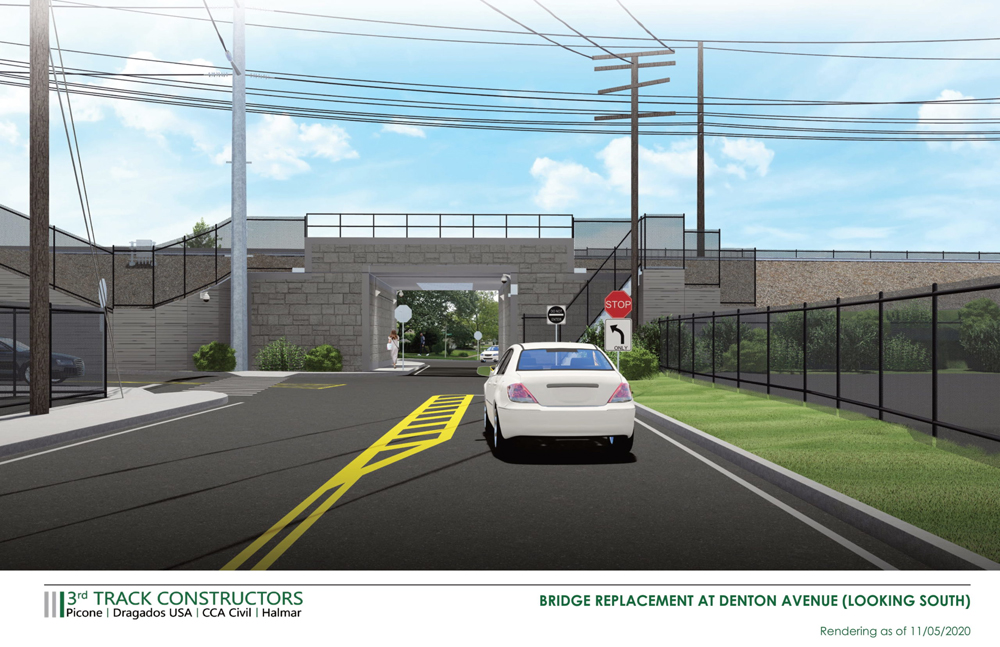 GARDEN CITY, N.Y. — The Long Island Rail Road's Third Track project is unlikely to meet its December 2022 completion date because officials in Garden City have delayed permits needed for a rail bridge project, Newsday reports.
It's part of a continuing legal battle between the Metropolitan Transportation Authority and the village of Garden City, a community of 22,000 near the west end of the 9.8-mile project to add an additional track to the LIRR's heavily used Main Line between Floral Park and Hicksville, N.Y. The MTA and LIRR have filed suit against the village in the state Supreme Court, alleging officials are "holding hostage" the permits needed to replace a bridge over Denton Avenue.
Garden City had previously sued the LIRR over how utility poles were placed at the Merillon Avenue station as part of the project [see "Digest: Draft plan released …," Trains News Wire, Feb. 15, 2021]. That suit was dismissed by a state Supreme Court justice in July, a decision currently under appeal.
The bridge project was supposed to have begun in March. MTA officials told the newspaper the project still could be brought back on schedule, but it would require night and weekend work into the winter, driving up costs, including overtime pay.
Garden City officials did not respond to the newspaper's request for comment or declined comment. But a Facebook post from Mayor Cosmo Veneziale said residents had "many questions concerning the project and how it will continue to impact the Village, particularly with respect to the Denton Avenue Bridge and potential changes to the road and bridge design." The message said the village could not discuss particulars because of the pending litigation.