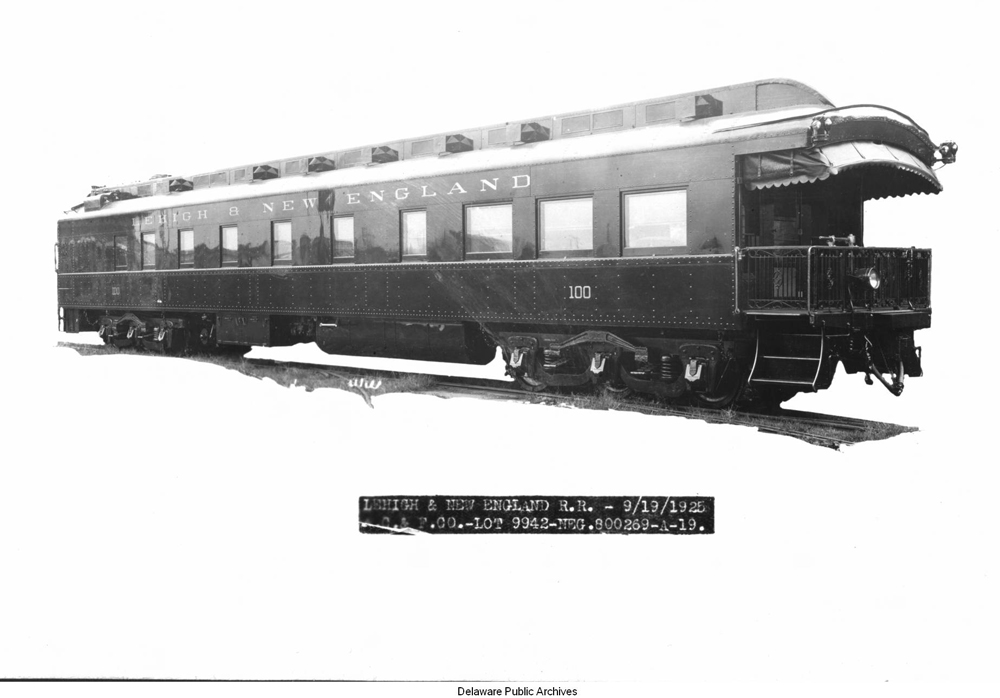 ---
DUNCANSVILLE, Pa. – A rare anthracite-region steel heavyweight office car has been rescued by the Everett Railroad, which intends to restore it for first-class service on its excursion trains.
The only known surviving passenger car from the Lehigh & New England Railroad, car No. 100 was built by American Car & Foundry Co. in September 1925, serving the L&NE until the road's 1961 abandonment, after which the car was used by a contractor who tore up the track.
The 75-foot-long, 60-ton car was sold in 1964 to become part of the "Paoli Local" restaurant at Strafford, Pa., on the historic Pennsylvania Railroad main line, route of the PRR's Philadelphia commuter-train fleet of that same name. The owner painted and lettered it in Pennsylvania Railroad livery and gave it the number 605. Several photographs of the car being moved to the restaurant site are on the online archive of the Radnor Historical Society.
Both the interior and exterior were heavily modified, according to Everett Railroad President Alan Maples, with the insides being gutted and two holes having been cut in one side to provide access from and to the restaurant's main building. The business changed names and owners several times, he said. Finally in 1993, the owner no longer needed the car and sold it to Ed Metka, owner of the Vintage Electric Streetcar Co. in Windber, Pa., south of Johnstown. Metka stored the car in a building that was once a freight-car repair shop for the Berwind-White Coal Mining Co., a shipper that once fielded a fleet of hundreds of private-owner hoppers.
Most of Metka's inventory consisted of retired trolley cars that he hoped to market to cities or agencies contemplating a renaissance of streetcar service. He did find some buyers, but many pieces of rolling stock remained, including L&NE 100.
Maples met Metka through a mutual friend, Keith Burkey. "At the time, Ed wasn't looking to sell the car and we hadn't started our excursion program," Maples said. "It was fortuitous timing that I happened to think of the L&NE 100 earlier this year and reached out to Ed just as he was selling the property. I thank [him] for saving this car in 1993 and for making it available to use for restoration and operation."
The car, he said, will be moved to the Everett Railroad's headquarters and shop at Duncansville, near Altoona, for evaluation and repairs.
Car's history
Car No. 100 carried L&NE officials on its first inspection tour over that road on Oct. 21, 1925, according to the Allentown (Pa.) Morning Call.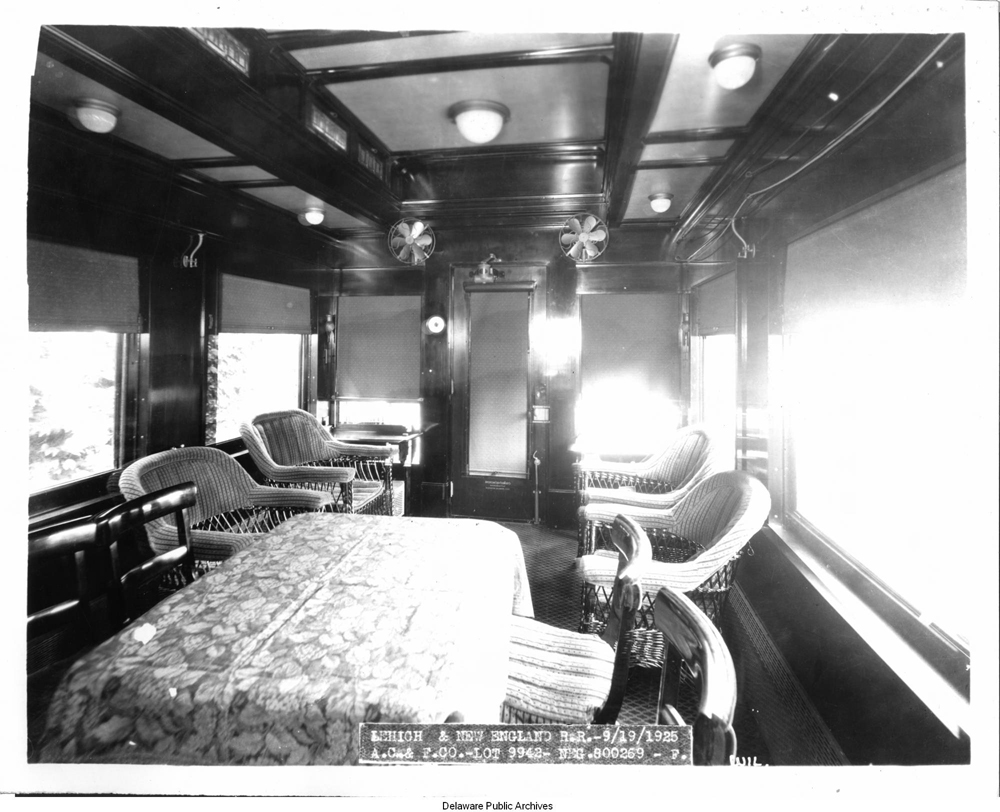 It won't be possible to restore the car's original interior arrangement and furnishings, in part because no floor-plan blueprints have been located. But Maples has uncovered a few of its secrets from a cache of AC&F builder's photos in the Delaware Public Archives.
"It did not have a traditional floor plan," he said. "It appears that the car was configured with four or five small compartments, each equipped with an upper and lower berth. There was a small kitchen, one restroom, and an observation room that may have doubled as a dining area." The car originally featured stained-glass panels in the clerestory (they're intact), a carpeted floor and walnut paneling.
Soon after the car arrived on L&NE, the Reading Co. offered to buy and merge the entire railroad. "As part of its plans for integrating the L&NE into its own operations, the Reading proposed taking the L&NE's brand-new car 100 and reconfiguring it with a more conventional layout, including two staterooms," said Maples. "Bobb Losse located the proposed floor plan among documents at the Reading Co. Technical & Historical Society, and [Pennsylvania state archivist] Kurt Bell supplied me with a copy." The Interstate Commerce Commission turned down the acquisition, Maples noted, adding that "the car retained its original floor plan for the rest of its service life on the railroad."
With a standard heavyweight-era look, and an open-platform observation section, L&NE No. 100 should fit well with the Everett's fleet of 1920s-era passenger cars, most of them former Jersey Central commuter and intercity cars, along with one steel combine (now a bar car) from a Western Pennsylvania ore-hauling road, Bessemer & Lake Erie.
Operating 22 miles of ex-Pennsylvania Railroad branch lines, the Everett Railroad runs diesel-hauled freight trains and seasonal steam-powered passenger trains. It owns two steamers, an Alco-Cooke 2-6-0 engine built in 1920 that burns used motor oil for fuel, and a Baldwin 2-8-0 engine built in 1927 (under restoration) for the carrier's corporate predecessor, the Huntingdon & Broad Top Mountain Railroad, which was abandoned in 1954.