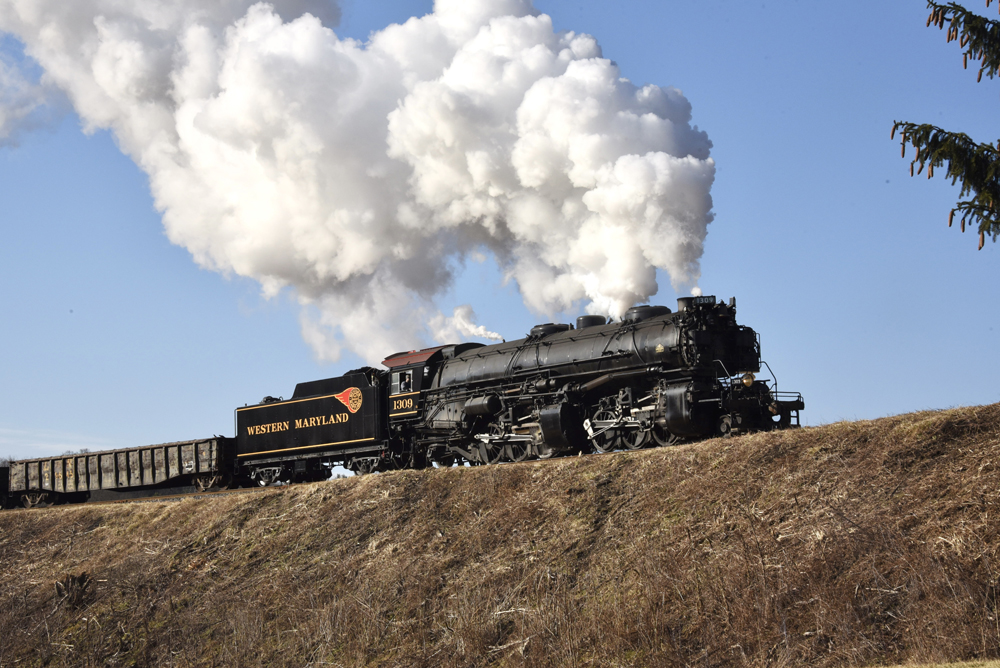 ---
CUMBERLAND, Md. — Western Maryland Scenic Railroad and Trains Magazine kicked off the 2022 steam season at the Cumberland, Md.-based tourist railroad with a three-day photo charter featuring former Chesapeake & Ohio 2-6-6-2 No. 1309, the last Baldwin built for domestic service and now the world's largest operating Mallet.
Some 100 enthusiasts were on hand for the event Friday, Feb. 25, through Sunday, Feb. 27.
The 1949 articulated was restored in late 2020 and spent most of 2021 being fine-tuned and awaiting the completion of a rebuild for the Western Maryland Scenic. The locomotive appeared on Polar Express runs in December 2021; this weekend's trips were the first for rail enthusiasts.
The event featured a Friday night trip behind steam to Frostburg, Md., and two days of photo run-bys with No. 1309 pulling an 11-car photo freight. Photo sessions focused on world-famous Helmstetter's Curve, the legendary horseshoe curve on the Western Maryland main line. Participants rode a passenger train powered by authentic Western Maryland SD40s.
Trains was a major sponsor of the effort to raise money to finish the locomotive, and readers donated more than $300,000 to the cause. The John Emery Trust made a crucial donation in 2020 to keep the project going.
No. 1309 enters regular service in May and runs long weekends through October. The railroad and Trains Magazine are sponsoring another photo outing Nov. 4-5, and tickets are available at this Eventbrite page.