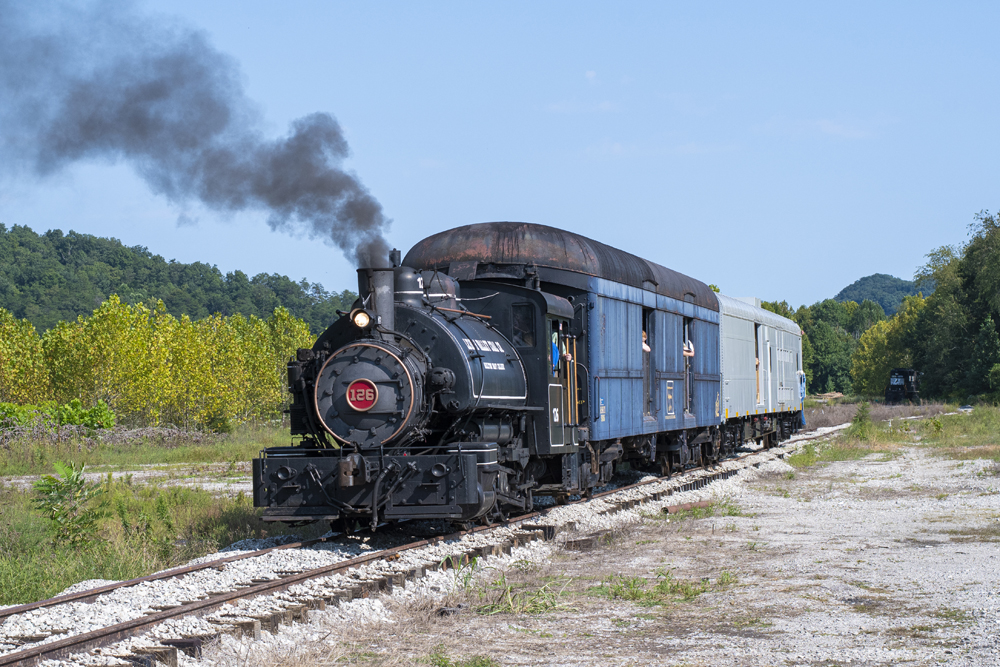 RAVENNA, Kentucky — Train operations are now underway at the Kentucky-based nonprofit where steam locomotive C&O 2716 is being restored, and officials there are looking forward to larger-scale operations in the near future.
On Saturday, Kentucky Steam Heritage Corp. hosted train excursions for the first time in its six-year history to help celebrate the Ravenna Railroad Festival, a long-running local fall event in rural Estill County, Ky. The excursions featured two cars, including Kentucky Steam's former Pennsylvania Railroad baggage car, and were pulled by the former Lehigh Valley Coal Co. 0-6-0T saddle tank locomotive No. 126, nicknamed "Sadie," on short-term lease  for the weekend's event. The 90-year-old locomotive, built by Vulcan Iron Works in 1931, operated 17 half-hour excursions on Saturday.
Kentucky Steam President Chris Campbell says nearly 700 tickets were sold for Saturday's excursions, with more than 500 of those being presale tickets. Campbell says local officials estimated that approximately 4,000 people attended the railroad festival, with many, even those not holding tickets for train rides, visiting the boarding area to see No. 126 in action.
"As far as interest, we didn't know how much there would be, but we were beyond thrilled with what we experienced," Campbell says. "We wish we could have accommodated everyone because we sold out of all of our presale tickets, and we experienced such a massive walk-up for in-person tickets that we sold out of those and had to turn some people away."
The past weekend's excursions are a preview of operations to come, Campbell says. Kentucky Steam is actively restoring former Chesapeake & Ohio 2-8-4 No. 2716 to operating condition, with plans for the big Kanawha-type locomotive to be the centerpiece of the organization's multi-purpose campus in Kentucky. The locomotive, on long-term lease from Kentucky Railway Museum, was on display during Saturday's festival for visitors and excursion riders to view the progress of the restoration. Campbell says Kentucky Steam plans to operate No. 2716 on its property with excursions similar to those at the railroad festival, but also larger-scale events and throttle time-experiences. He also says there are plans in development for No. 2716 to operate on railroads outside of Kentucky.
"Our ability to do events with 2716 once the restoration is complete will be enhanced with the construction of more track at our facility, and that will lend itself to our being able to host events of a larger scale than those at the festival," Campbell says. "We're also hammering out the details with some other railroads that may host some operations with the 2716, so there is a future for the locomotive not only here, but also outside of Ravenna. We'll be announcing some of those plans this fall."
As for operations in Ravenna, Campbell says Kentucky Steam is already considering attempting to bring the 126 back for next year's Ravenna Railroad Festival. Plans for other events before then are also in development.
For more information on Kentucky Steam Heritage Corporation, visit www.kentuckysteam.org.