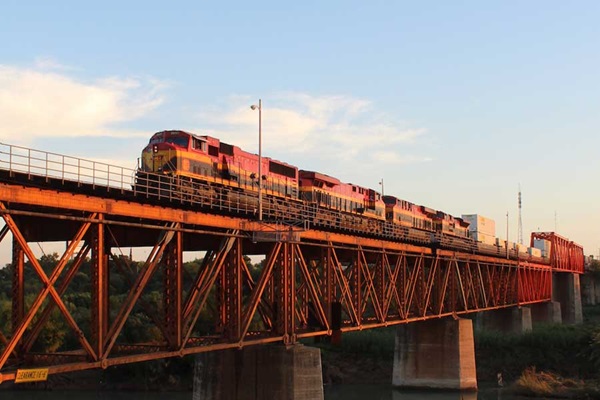 ---
PHOENIX — Kansas City Southern will shift much of its focus on capacity improvements from Mexico to the U.S. in 2022 while overall capital spending will increase "on the magnitude of 10% or so," Manny Loureiro, the railroad's vice president and chief engineer, said Saturday at the National Railroad Construction & Maintenance Association Conference.
Those U.S. projects will largely be concentrated between Laredo and Houston, with four new sidings and two siding extensions, along with double-tracking and switching-lead projects in Laredo. The Laredo-area improvements will enter service in the first through third quarters.
"We've focused on the border south the last couple of years," Loureiro said. "We're coming in from the border focusing northward."
Permitting work is continuing for the second international rail bridge in Laredo, with hopes for permitting to be complete in the second quarter of 2022, followed by 15 to 18 months of construction. "We'll have some ability to play with that timeline, depending on our needs," Loureiro said. "Currently our border operations are very fluid. I have to put a plug in for our [chief operating officer], John Orr, who's come in and made a real big difference in our execution and diligence and sense of urgency that he's brought to the organization."
Permitting is moving at roughly the same speed in both the U.S. and Mexico, he said.
Some projects are still slated for Mexico. Phase 1 of a CTC project is set for the line between Monterrey and Matamoros, and two siding extensions are planned. One of those, at San Luis Potosi, will be paired with construction of a double-track bridge, which will connect to double-tracking south of San Luis Potosi done in previous years.
The pending merger with Canadian Pacific, if approved, is likely to bring an increase in capacity work between Kansas City and Houston, Loureiro said, as indicated in the railroads' merger application. "Some of that high-level design work and environmental assessment has started, within the framework and guidelines that we're allowed to work on those things," he said. "There's probably about 12 sites that are being targeted right now within the KCS network." That work could begin between 2023 and 2025, depending on the regulatory outcome.
Maintenance work for 2022 will include about 625,000 ties and 100 track miles of rail. About 80% of the budget will go to day-to-day renewal and 20% to capacity work, he said. The railroad is also increasing rail testing in its core network in the U.S., doubling its frequency. KCS will also introduce an autonomous track geometry car. "We'll be taking delivery of that in the next two to three months," Loureiro said.
— Updated at 10:35 a.m. CST to correct year to 2022 in first paragraph.