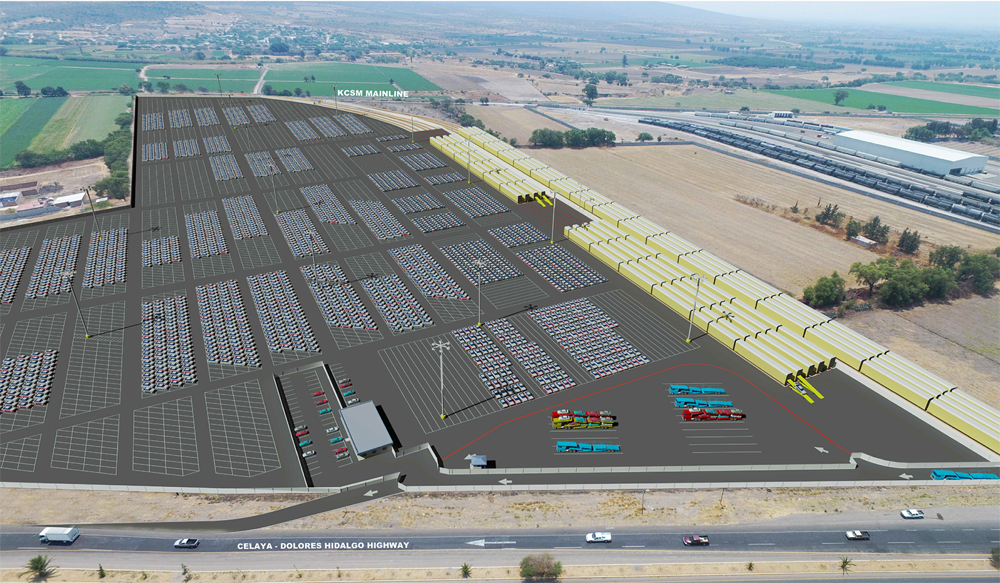 KANSAS CITY — Kansas City Southern will collaborate on a vehicle distribution center in Central Mexico capable of handling up to 10,000 vehicles when fully built out, the railroad has announced. The facility will handle both inbound and outbound vehicle traffic.
KCS will collaborate with Suministros Industriales Potosinos SA de CV (SIPSA) and TransDevelopment Group to build the Central Bajio Vehicle Distribution Center, near the city of Celaya and in close proximity to four auto manufacturing facilties. It is located 25 miles from Querétaro, Mexico's fastest-growing city, and adjacent to KCS de Mexico's main line between Monterey and Lázaro Cárdenas. It will also be adjacent to SIPSA's Transload and Cross Dock Terminal, the highest-capacity terminal of its kind on the KCS network.
"Development of the Central Bajío VDC adds velocity, capacity and markets," Rodrigo Flores, KCS vice president automotive and intermodal, said in a press release. "One goal is to speed the turnaround for multi-level rail cars making a round-trip between the U.S. and Mexico improving the availability of rail cars in the region. Unloading rail cars in the Bajío, near many of the assembly plants where empty rail cars are needed, adds capacity and reduces congestion."
More information about the project is available at the Central Bajio VDC website.