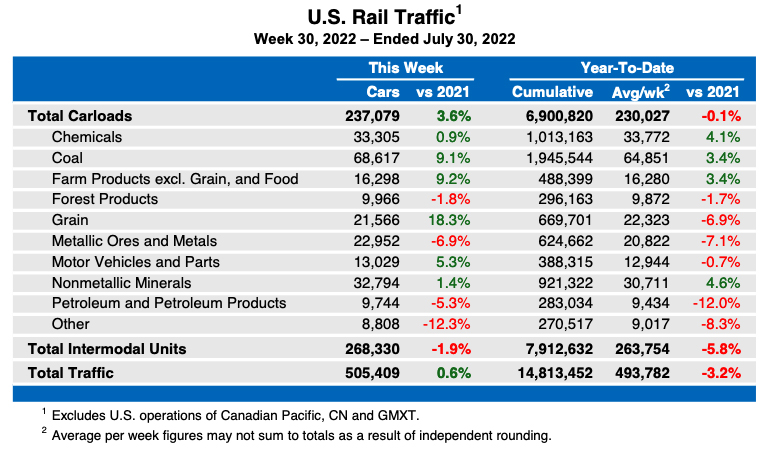 ---
WASHINGTON — U.S. rail traffic remained below 2021 levels, although by a decreasing margin, during July, with overall traffic showing a 1.5% decrease.
Statistics from the Association of American railroads show U.S. railroads originated 906,903 carloads for the month, up 0.2% from July 2021, while intermodal traffic of 1,033,906 carloads represented a 3% decline. In total, railroads moved 1,940,809 carloads and intermodal units.
The overall figure of 1.5% is the smallest monthly decline compared to 2021 since February, when traffic showed a 5.7% increase, mostly because severe weather interfered with rail traffic in February 2021. It marked the third straight month the amount of decline had decreased, after traffic was down by 5.8% in April, 4% in May, and 3.2% in June.
"Rail traffic in July was evenly balanced between commodities with carload gains and those with carload declines," AAR Senior Vice President John T. Gray said in a press release. "As such, it does not provide definitive evidence regarding the state of the overall economy. In that respect, it is very similar to most other recent economic indicators."
For the year to date, carload traffic is down 0.1%, intermodal volume is down 5.8%, and total traffic has decreased by 3.2%.
Traffic up for week ending July 30
Overall traffic for the 30th week of 2022 was 505,409 carloads and intermodal units, an increase of 0.6% from the corresponding week in 2021. That included 237,079 carloads, an increase of 3.6%, and 268,330 intermodal units, down 1.9%.
North American totals for the week, from 12 reporting U.S., Canadian, and Mexican railroads, show overall traffic also up 0.6%, at 691,478 carloads and intermodal units. The 333,060 carloads represent a 1.9% gain over the same week in 2021; the 358,418 intermodal units are a 0.6% decline. Year-to-date totals for North America have carloads down 0.8%, intermodal units off 5.2%, and total traffic declining by 3.1%.