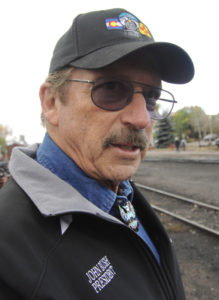 CHAMA, N.M. — John Bush, president and general manager of the Cumbres & Toltec Scenic Railroad, is retiring after eight years overseeing the narrow gauge railroad.
"John has been an incredible asset to the Cumbres & Toltec and has poured his heart and soul into the organization," Dan Love, chairman of the Cumbres & Toltec Scenic Railroad Commission, said in a press release. "… John will step back from his daily involvement to focus on a business his family is taking over in Chama and other tourism-related projects.
The retirement was effective as of Saturday, Nov. 14, but Bush said he will continue to work on several projects: "I am looking forward to participating in the 50th anniversary and Iron Horse Round Up. I will be spearheading these events as well as continuing my work with Tracks Across the Border Byway and the acquisition of historically significant equipment for the C&TSRR." The byway is a scenic route following the former Denver & Rio Grande Western narrow gauge line between Chama and Durango, Colo.
Eric Mason, who is currently interim CEO, will assume oversight of day-to-day operations of the commission and the Cumbres & Toltec Operating Co. as the railroad prepares for future seasons and seeks a permanent replacement for Bush.
"We will all miss John's enthusiasm and extensive experience," Mason said. "We are fortunate that John will continue to maintain a home in the Chama area, and has volunteered to help with specific projects that will enhance the operations of the Cumbres & Toltec Scenic Railroad."
For more on the Cumbres & Toltec, visit the railroad's website.