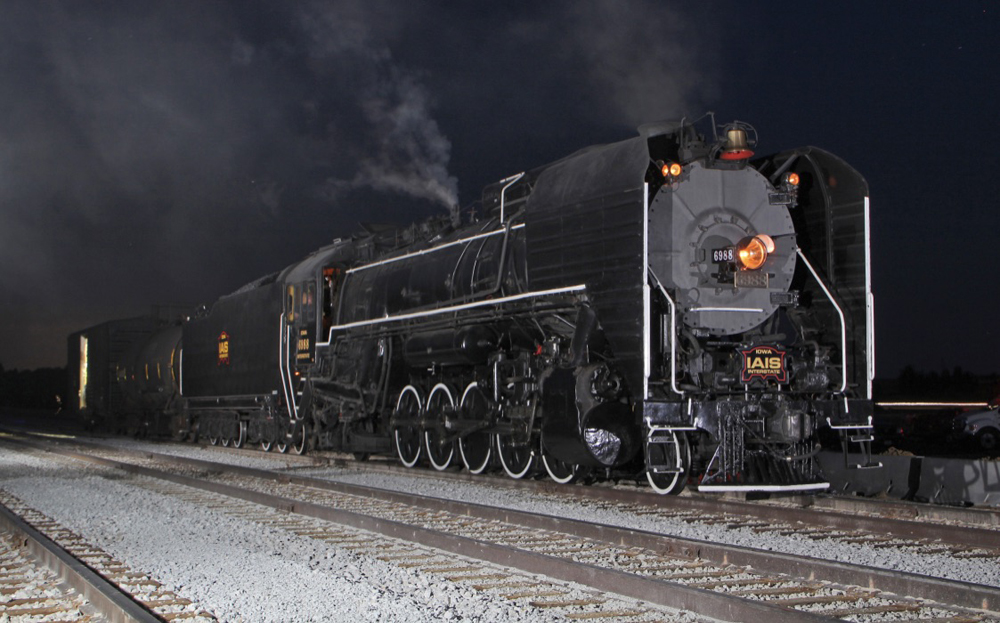 DES MOINES, Iowa – Central States Steam Preservation Association and the Iowa Interstate Railroad, in partnership with Operation Lifesaver and the Science Center of Iowa, will run short passenger trips out of downtown Des Moines with the Iowa Bolt 2-10-2 steam locomotive No. 6988 Labor Day Weekend.
This event will put Operation Lifesaver at the forefront of the weekend to promote railway safety; as well as an opportunity for the public to see and learn about steam and its history. The Steam Preservation Association is also pleased to partner with the Science Center of Iowa, a non-profit with the similar mission of engaging and educating Iowans along their journey of lifelong science learning.
Riders will be able to enjoy an operating display from Operation Lifesaver to learn about railway safety, and a trip into the Iowa countryside behind the Chinese-built QJ No. 6988 as a part of this event. They can also enjoy the rest of what the Science Center of Iowa has to offer, such as a Mini Makers Fair on Monday, Sept. 6, for an additional fee.
No. 6988 will be on static display for the public (at no fee for visitors) on Saturday, Sept. 4, between 11 a.m. and 4 p.m. outside the Science Center of Iowa on 4th street.
The train will make five runs on Sunday, Sept. 5, between 9 a.m. and 3 p.m., and four runs on Monday, Sept. 6, between 9 a.m. and 1:30 p.m. Each train ride will last approximately 50 minutes and will depart from 4th Street in front of the Science Center of Iowa.
For more information and to purchase tickets, please visit the Science Center of Iowa website.