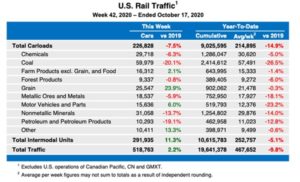 WASHINGTON — Overall U.S. rail traffic continues to show an increase over 2019 thanks to intermodal volume, while carload traffic remains down, according to figures released Wednesday by the Association of American Railroads.
For the week ending Oct. 17, combined traffic was 518,763 carloads and intermodal units, up 2.2% compared to the same week in 2019. There were 226,828 carloads, down 7.5%, and 291,935 intermodal units, up 11.3%. Four carload commodities showed increases over 2019, led by grain, up 23.9%;  six were down, most notably coal (minus-20.1%) and petroleum and petroleum products (minus-19.1%).
For the year to date, total traffic is down 9.8%, with intermodal units down 5.1% and carloads down 14.9%.