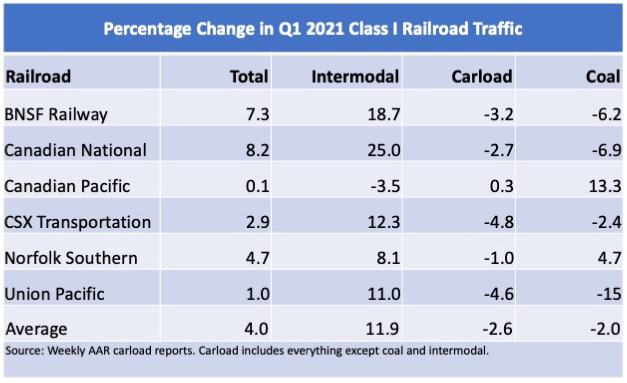 All of the big six Class I railroads notched volume gains in the first quarter as robust intermodal growth overcame slight declines in carload volume.
Intermodal volume is on a tear as retailers aim to keep store shelves and online order fulfillment centers full due to consumers spending more on goods than services during the pandemic.
Canadian National led the way in year-over-year comparisons, with an 8.2% increase in overall volume. But that figure was warped by last year's first quarter, when traffic on some of CN's key routes was halted due to a spate of illegal blockades that lasted for weeks.
BNSF Railway's traffic surged 7.3%, propelled by a nearly 19% rise in intermodal volume. Much of that traffic has come from the ports of Los Angeles and Long Beach, the nation's busiest, which are experiencing record volumes for this time of year.
Union Pacific's intermodal volume rose 11% in the quarter, helping the railroad's overall traffic rise 1%.
In the East, Norfolk Southern's overall volume rose nearly 5%, boosted by 8% intermodal growth and a nearly 5% rise in coal traffic. CSX Transportation's total volume was up nearly 3%, led by a 12.3% surge in intermodal traffic. Both railroads are seeing increased volume from East Coast ports as well as parcel traffic related to ecommerce.
Canadian Pacific's traffic was flat compared with last year's first quarter, when the railway's volume surged 10% partly due to picking up some traffic that could not move on CN during the blockades.
The last couple weeks of the first quarter last year were affected by the onset of the pandemic, which went on to produce record traffic declines in the second quarter.
"When much of the economy shut down around this time last year, rail volumes plummeted too. We have to take that into account when comparing rail traffic this year to last year," said Association of American Railroads Senior Vice President John T. Gray. "That said, rail traffic has clearly rebounded from last year's depths. Looking ahead, rail volumes are highly correlated with manufacturing output, so recent signs of strength in manufacturing are good signs for railroads too."