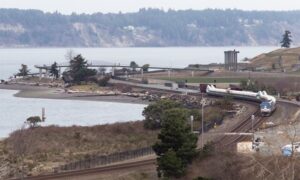 LOS ANGELES — The new owner of Washington state's two Talgo Series VI trainsets says the equipment is available — but not for long.
"It's a sensitive matter for everyone involved, and it wasn't supposed to turn into a spectacle," Noah McCann of NSM Transportation Co. tells Trains News Wire. He adds, "If anyone is interested, they are still available, but they are going to be gone in a matter of two or three days."
According to Washington State Department of Transportation spokeswoman Janet Matkin, the agency sold both trainsets to McCann's company for $21,000 total, but it was responsible for the considerable expense of getting them off of the property.
"We paid a lot more than that," says McCann. "After the purchase, we aggressively tried to market them, but Amtrak doesn't want them."
Trains News Wire caught up with McCann aboard the Mt. Baker and Mt. Rainier equipment near San Luis, Obispo, Calif., on Monday. The trainsets ran coupled together as an Amtrak special on the Coast Starlight's schedule leaving Seattle on Sunday, a day the southbound train hasn't been operating since its frequency was reduced to triweekly status last October. [See "News Photo: WSDOT Talgo equipment leaves Washington, bound for scrap dealer," Trains News Wire, Feb. 28, 2021].
If there are no takers after their arrival in Los Angeles, McCann plans to immediately begin dismantling the two trainsets he bought after WSDOT's Rail Division put them up for sale last year.
"We're reusing the interior fittings on other projects, but it's a private job to dismantle them for the State of Washington. In reality, nobody is going to come in to pay to move these things, and they're getting scrapped," says McCann.
NSM Transportation was selected in the sale, in which the state agency had rejected bids and requests for a donation of one trainset or some of the permanently coupled cars, according to a source at the Northwest Railway Museum. Members of the Southern Rail Commission also traveled to the Pacific Northwest to determine whether the Talgo Series VI trainsets Washington was selling might fit into future plans for a proposed New Orleans-Mobile, Ala., service.
According to the commission's Knox Ross, "We went all the way out there with the understanding that we were going to meet with representatives of WSDOT, who would answer specific questions about the equipment. None of that happened, and the third-party representative they sent to meet with us wouldn't answer any questions, so we didn't bid."
The Washington state agency made the decision to sideline its two remaining Series VI trainsets and two owned by Amtrak, the Mt. Hood and Mt. Olympus, when its maintenance agreement with Talgo expired in July 2020. The Amtrak trainsets are now at the company's Beech Grove Heavy Maintenance Facility in Indiana. The fifth trainset, the Mt. Adams — originally built for Amtrak but sold to WSDOT — was destroyed in the fatal Dec. 18, 2017, Amtrak Cascades derailment on the Point Defiance Bypass.
Two Talgo Series 8 trainsets owned by Oregon have been sufficient to handle the Cascades route since service was reduced to one daily Seattle-Eugene, Ore., round trip last March as a result of the COVID-19 pandemic. That equipment is also handling qualification runs for the eventual resumption of service on the Point Defiance Bypass, which has not been used since the 2017 derailment. Leased Amtrak Horizon equipment fillis in at least temporarily when an Oregon Series 8 might not be available. Talgo provides maintenance on them in Seattle under a modified agreement.
Meanwhile, with the Canadian-U.S. border still closed indefinitely and no firm date to increase Cascades frequencies, negotiations to bring three Series 8 trainsets to the Pacific Northwest have stalled. Talgo had modified that equipment, built for but never operated by the state of Wisconsin, at its Milwaukee shop [see "Orphan Talgo equipment returns to Milwaukee factory," News Wire, Dec. 8, 2019].