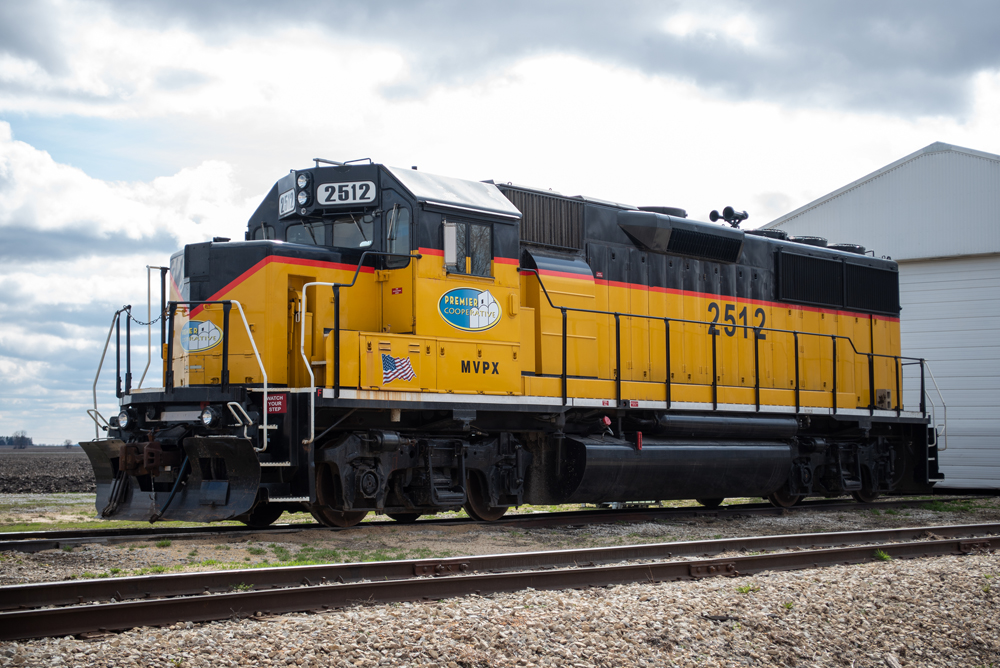 ---
DEWEY, Ill. — Premier Cooperative in Dewey, in east central Illinois, has purchased a former Dakota & Iowa Railway GP50 to serve its large grain elevator.
GP50 No. 2512 was built for the Chicago & North Western as its No. 5054 in May 1980, spending most of its early life speeding "Falcon Service" piggyback trains between Chicago and Fremont, Neb., and its connection to the Union Pacific.
The GP50 was acquired from locomotive dealer Motive Power Resources, Inc., in Minooka, Ill.
It is replacing a rare former Illinois Central GP28, No. 1828, which has become "unreliable," according to Premier's Wes Ware, project and maintenance manager.
Canadian National brings 110- to 115-car unit grain trains for loading at the elevator, shoving them onto a branch at Rantoul, Ill. Premier's locomotive pulls the empties west to the elevator, where they are loaded, then shoved further west as the loaded trains are assembled.
"We shipped 15 million bushels in 2021 — export corn and soybeans to the Gulf, where they are loaded directly on to ships," Ware said.
The GP28, he said, had too many "maintenance and wiring issues; some days it would not start. That engine is attractive to a lot of people. The plan had been to scrap it, but now I am just awaiting a buyer."
Ware added that the difference in horsepower between the ailing GP28 and the GP50 has been a game changer.
"Oh my gosh, 1828 is 1,500 hp; this one is 3,500," he said. "We moved 78 loaded cars up the hill towards Fisher. It has been great!"