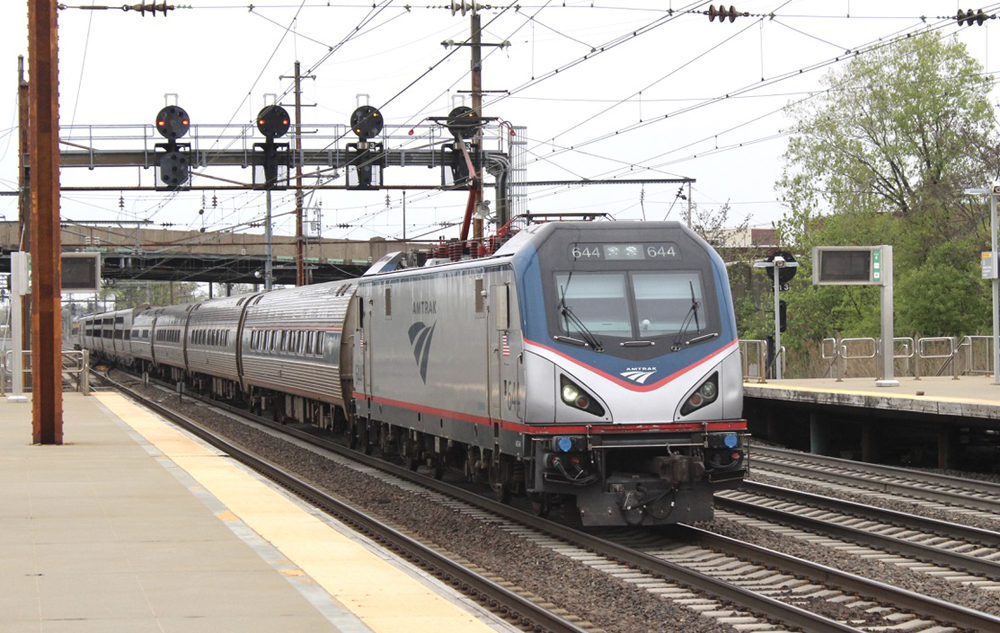 ---
WASHINGTON — U.S. House Republicans have released a proposed budget for fiscal 2024 that would effectively force Amtrak "to radically reduce or suspend service on various routes across the nation," according to Amtrak CEO Stephen Gardner.
The legislation marked up Wednesday also calls for substantial reductions in infrastructure programs benefitting passenger rail. Its release begins a negotiating process among lawmakers that follows a Memorial Day debt reduction deal hammered out between President Joe Biden and House Majority Leader Kevin McCarthy.
The table below shows that the bulk of the appropriators' Amtrak cuts were inflicted on the Northeast Corridor, but because corporate overhead is also allocated to long-distance and state-supported routes, the entire network would be at risk.

Under the "cuts to wasteful spending" category in the House GOP's summary are elimination of $560 million from the Federal-State Partnership for Intercity Passenger Rail program, although passage of the Infrastructure Investment and Jobs Act (IIJA) has guaranteed $7.2 billion for state-of-good repair projects.
The Republican appropriators also seek to zero out two competitive grant programs likely to primarily benefit rural communities — the Federal Railroad Administration's Railroad Crossing Elimination Program, for which $500 million is authorized, and the Department of Transportation's RAISE (Rebuilding American Infrastructure with Sustainability and Equity) program, for which $50 million is authorized.
In addition, the Consolidated Rail Infrastructure and Safety Improvements (CRISI) program — which has played a particularly significant role for short line railroads — is slated for a cut of more than 50% from current-year levels to $258.5 million.
At a June 6 Amtrak hearing, House Transportation and Infrastructure Committee Republican leadership's comments demonstrated an unfamiliarity with restrictions placed on Jobs Act funds that prevent their use for operations or regular state-of-good-repair projects.
Gardner said in a statement that under the Appropriation Committee proposal, "Amtrak would be forced to immediately reduce vital state of good repair work needed to reliably operate our network and defer many of the major modernization projects that were funded by the IIJA just over a year and a half ago. Amtrak's IIJA funds can primarily be used only for major infrastructure projects and equipment procurements, not the basic maintenance, operations, and routine day-to-day expenditures supported by our annual appropriations."
Rail Passengers Association President Jim Mathews is blunt: "This proposed budget does not take the task of governing seriously, ignoring the needs of hundreds of Amtrak-served communities in favor of scoring cheap political points."
He added in his statement, "These proposed cuts are all the more infuriating coming at the same time as we're seeing unprecedented interest in adding and upgrading passenger rail service from cities and towns across America. When the Federal Railroad Administration asked for proposals as part of its Corridor Identification Program, there was a massive response from states across the nation — Red and Blue, North and South, Heartland and Coastal. We can't afford to gut these exciting new programs before they even get started."
Trains News Wire asked the Appropriations Committee spokesperson why appropriators believed the Federal-State Partnership program was "wasteful" when many programs have the potential to help rural communities, and how it was determined to cut Amtrak funding below 2003 levels and set the specific amounts for the Northeast Corridor and National Network. A response will be added to this article when it becomes available.
Amtrak's Gardner and RPA's Mathews plan to work with House and Senate appropriators to come up with, as Mathews says, "a responsible budget that preserves essential economic and transportation services." As the process continues through September, input from local and state officials is also likely to play a significant role.