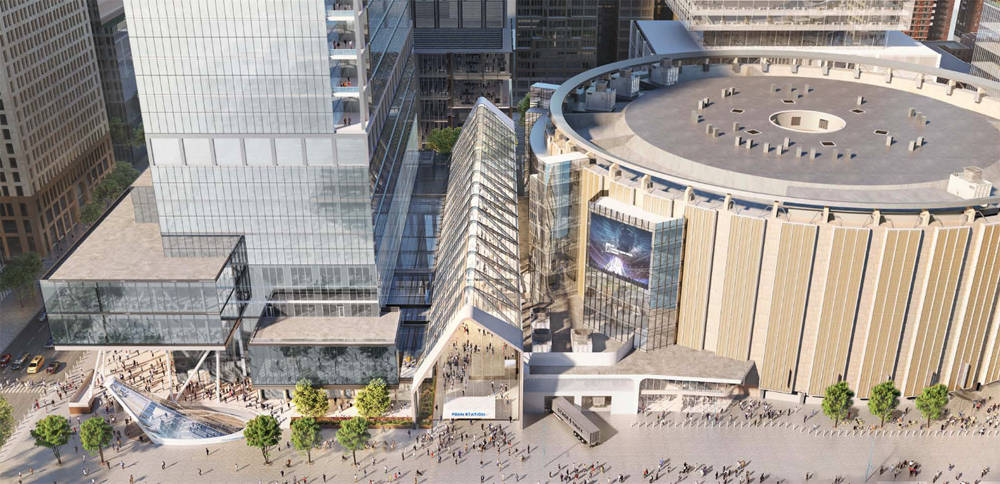 ---
NEW YORK — A representative for Madison Square Garden argued at a Wednesday hearing that a recent report by Penn Station's rail operators saying the arena and station are "not compatible" is a negotiating ploy by the rail agencies as the arena seeks a permit to continue operations.
The six-hour hearing before New York City's Planning Commission was on the Garden's request to extend a special permit that allows it to hold events with up to 20,000 people at the arena located above Penn Station. Without that permit, which expires July 24, events would be limited to 2,500 people.
The Planning Commission will vote on the permit at a later date, but the ultimate decision will rest with the New York City Council.
The Metropolitan Transportation Authority, Amtrak, and NJ Transit combined on a report for the Planning Commission saying that, for the arena to be compatible with safe and acceptable operation the station, MSG should engage in a land swap that would allow for improvements at the station, and should contribute to those improvements [see "Rail operators' report calls Madison Square Garden 'not compatible' …," Trains News Wire, June 5, 2023].
But the Our Town newspaper reports that Garden Executive Vice President Richard Constable told the hearing that the issues at Penn Station "do not arise out of arena use. … They exist because the MTA would like to use land it does not own to construct its proposed improvemtn. The MTA is blatantly attempting to use their compatibility report, much of which is outside the scope of the special permit process, to further their negotiating position."
Jamie Torres-Springer, president of MTA Construction & Development, countered that it is "standard and undertaken very often by this commission that in exchange for certain benefits … there are commitments that are made," noting other projects that had made transportation improvements as part of their right to build.
Both sides agree the Garden benefits from its proximity to the station, the newspaper reports, with Torres-Springer saying the station improvements sought by the MTA, Amtrak, and NJ Transit would benefit the arena, which should there for support them with "contributions proportionate only to benefits that MSG receives … We're not saying that MSG msut move. What we are saying is MSG must work with us to take steps to address these constraints and meet the needs of transit users."
Constable, however, said the plan by the rail agencies is not detailed enough for MSG to comment upon, calling it "a concept piece," according to amNY.com. "There's no concrete engineering, no concrete mechanical, no concrete electrical,  no concrete structural, that we can look at and respond to." Torres-Springer, however said it was "somewhat absurd" that the "MSG simply cannot even comment on whether the master plan would be good for Penn Station or MSG unless they have some unknown, unspecified amount of additional design."
The amNY report notes that at least one group has sought to force the Garden to relocate from the site, which is more than the rail operators are asking. Manhattan Community Board 5 — a locally appointed volunteer board which reviews planning issues, among other duties — voted in March to ask the Planning Commission to approve renewal of the arena's special use permit for just three years, after which it would be required to move. The head of that board's Land Use, Housing and Zoning Committee said at the time that the arena is "a true impediment to Penn Station."