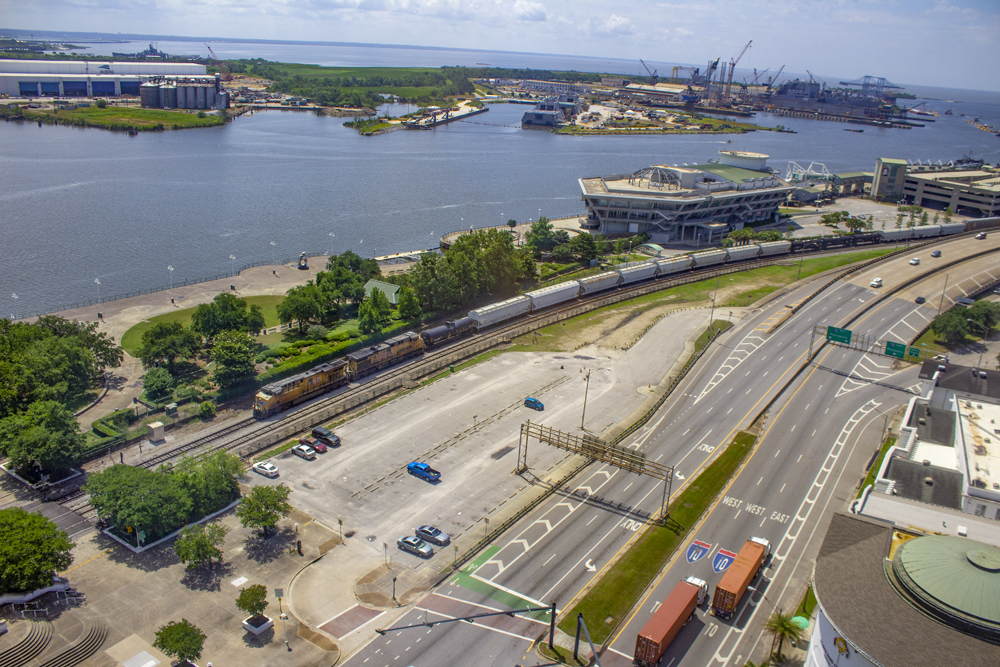 ---
POINT CLEAR, Ala. —The launch of two daily Amtrak round trips between New Orleans and Mobile, Ala., depends on when design and construction of a pocket track at Mobile is completed and 3 miles of positive train control is installed through CSX's Gentilly Yard east of New Orleans.
But that means service will not come until sometime in 2024 — a setback from an earlier estimate that it would start this year [see "Gulf Coast service to begin sometime in 2023 …," Trains News Wire, Dec. 12, 2022].
More than 30 in-person attendees and an equal number of Zoom participants received that update Friday on the Gulf Coast service at Southern Rail Commission's quarterly meeting southeast of Mobile. The group included commission members; civic leaders; and officials from Amtrak, the Federal Railroad Administration, and the states of Alabama, Louisiana, and Mississippi.
The facility at Mobile is to be located in what previously was the parking lot of the former station that was wiped out by Hurricane Katrina in 2005. The storm ended service along the route previously provided by the Sunset Limited to Florida. The new track will enable trains laying over for the return trip to New Orleans during the day or overnight to not block either of the two CSX main tracks, and must be completed before New Orleans-Mobile service begins. News Wire is awaiting word from CSX on a timeline for expected completion.
The SRC applied for a Consolidated Rail Infrastructure and Safety Improvement grant, with additional matches from Amtrak, states, CSX, Norfolk Southern, and the Alabama State Port Authority. It will fund $223 million of infrastructure upgrades [see "Grant seeks almost $179 million …," News Wire, Dec. 16, 2022]. Though the work will continue through 2026, passenger trains can begin running as soon as the layover track is built at Mobile and PTC is installed through Gentilly Yard.
"All plans and partnerships are moving forward and must be in place for us to start service next year between Mobile and New Orleans," says SRC Commission Chairman Knox Ross. "When all the elements have been finalized between the parties, the schedules, fares, and even the start date and official name of the train service will come via a joint formal announcement from Amtrak and the Southern Rail Commission. Until then, we have work to do. Our grants will make the railroad a lot more fluid than it is today," he adds.
Other notable details from the meeting:
— Amtrak's food and beverage team is seeking local vendors to supply cafe fare on the New Orleans-Mobile service.
— Louisiana is providing $20.5 million toward the local match requirement for federal grants the state is pursuing to repair or replace the 10-mph Bonnet Carre spillway bridge. This would pave the way for New Orleans-Baton Rouge passenger rail service over CPKC's former Kansas City Southern tracks.
— New Orleans' Louis Armstrong International Airport is seeking federal Mega Grant funding for a peoplemover that would link the terminals to a parking lot and rail station located on the proposed Baton Rouge and current City of New Orleans routes.