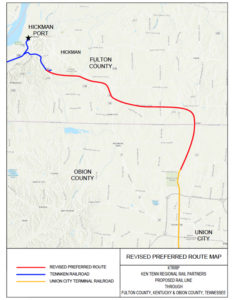 WASHINGTON — A group representing development agencies in Kentucky and Tennessee has filed a request with the Surface Transportation Board that would allow it to build a new 12-mile rail line connecting two existing short lines to better serve a Kentucky river port.
Ken Tenn Regional Rail Partners, a non-profit corporation created by the Fulton County Industrial Development Authority of Kentucky and the Industrial Development Board of Union City, Tenn., have requested an exemption from the STB's prior approval requirements in order to build the 12.17-mile line, which would connect from the TennKen Railroad near the Hickman (Ky.) Riverport to the Union City Terminal Railroad in Tennessee. Two segments of the line, totaling 3.47 miles, would use abandoned rights-of-way.
The petition for exemption says the current option for eastbound traffic from the port is a two-lane highway between Hickman and Union City, and says the port's current rail service is limited because the TennKen line, connecting the port to an interchange with Canadian National at Dyersburg, Tenn., is in poor condition. The new line would provide an additional interchange point with CN via the Union City Terminal Railroad point at Rives, Tenn., just south of Union City. The project already has more than $700,000 in funding from the states of Kentucky and Tennessee and will seek additional grants from the U.S. Department of Transportation. It asks that its request be granted subject to completion of an environmental review of the project.
The full petition is available at the STB filings web page.