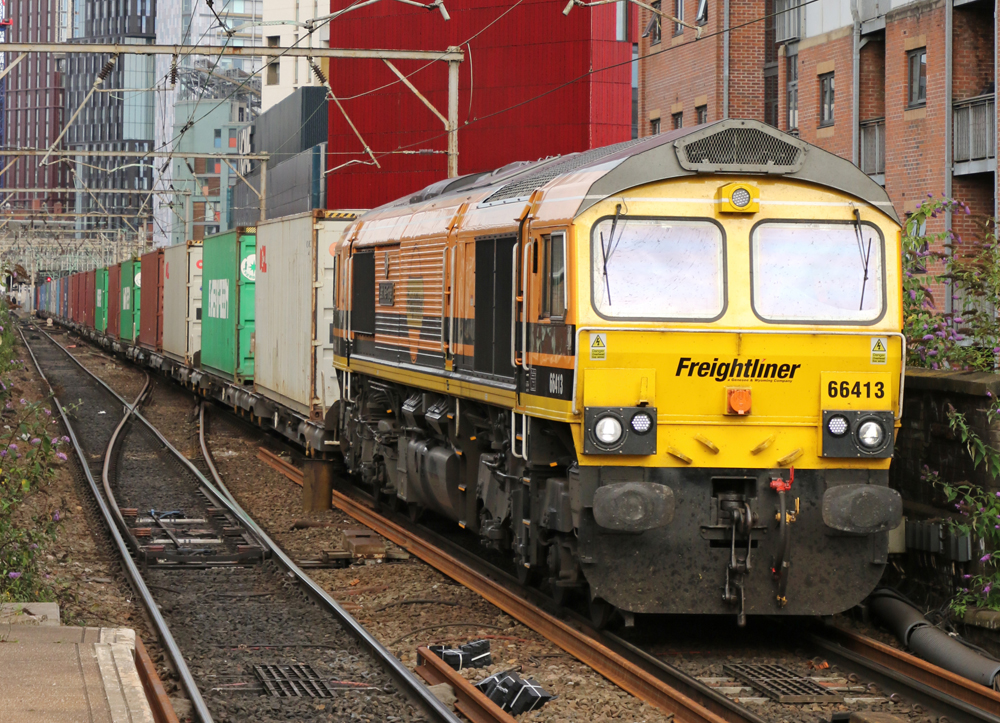 LEEDS, England — British freight operator Freightliner, owned by Genesee & Wyoming since 2015, has secured funding from the British government to convert a diesel locomotive to operate with hydrogen and biogas fuel.
Funds for the conversion of one of Freightliner's fleet of 113 EMD built Class 66 locomotives come from a British government First of a Kind (FOAK) competition, designed to test new ideas and concepts for transportation companies.
The project will use technology from specialist firm Clean Air Power, which has developed  precision injection technology enabling alternate fuel to be used in existing engines; the firm has locations in both England and California. The Class 66 locomotive will be equipped with the injection technology, enabling the existing 12-cylinder EMD 710 engine to run on a combination of diesel, biogas (bio-methane) or hydrogen.
The project has several other major participants including British rail infrastructure company Network Rail, construction firm Tarmac, industrial gas company Flogas and the University of Birmingham. British regulator Rail Safety Standards Board (RSSB) will also be involved, as the project may lead to more widespread use of the technology. Exhaust emissions will be measured in line with the latest RSSB guidance to understand the baseline conditions and the impact of dual-fueling for both hydrogen and biogas. All the conversion work, static testing, and emission-data collection will be carried out at Freightliner's maintenance shop in Leeds in Northern England.
Over 650 Class 66 type locomotives were built by EMD (type JT42CWR) in London, Ontario, and Muncie, Ind., between 1998 and 2015, mostly for British and European operators. Class 66s are currently responsible for hauling around 80% of all rail freight in Britain.
Finding alternatives to diesel fuel has become a major issue in Europe as governments commit to removing greenhouse gas emissions; the British government has pledged to achieve net zero greenhouse gas emissions across the entire economy by 2050. Most rail industry experts believe this can only be achieved through large-scale electrification freight routes. Parts of the network will never justify full electrification, so hybrid-fueled motive power will have a long-term role.
Other hydrogen-fueled locomotives planned
Several other European rail manufacturers are looking at hydrogen as a fuel for switch engines. In the UK, a 1960s-built, ex-British Rail Class 08 switching locomotive is being rebuilt as a test bed by start-up company Vanguard Sustainable Transport Solutions, together with the University of Birmingham's rail transportation department. The Harrier HydroShunter project will replace the existing 350-hp diesel engine with hydrogen fuel cells to power the existing traction motors. The work is being undertaken at the Severn Valley Railway tourist line, near Birmingham, and test runs there are planned later in 2021.
In Poland, rail engineering firm Pesa has announced plans for remanufactured locomotives using a mixture of hydrogen fuel cells and batteries. The rebuilt 800-hp Class SM42, which should debut later this year, is designed to pull trains of up to 3,500 tons. Its onboard tanks can store 385 pounds of hydrogen, feeding two 114-hp fuel cells. The Pesa locomotive will also have regenerative braking feeding its lithium-titanate-oxide traction batteries.
In Russia, Russian Railways (RZD) and engineering firm Sinara have agreed to build prototype hydrogen-fueled locomotives by 2024. RZD has announced that as of 2025 ,it will no longer purchase diesel-fueled locomotives.