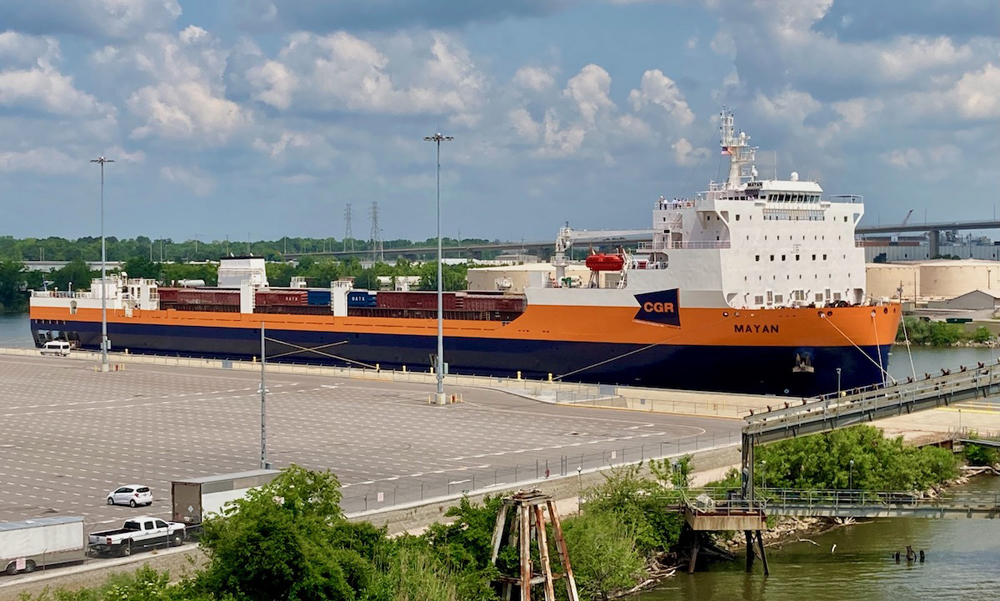 ---
MOBILE, Ala. —  With the sound of shattering glass and a big splash of champagne, Genesee & Wyoming short line CG Railway on Wednesday christened one of its new rail ferries that can haul up to 135 freight cars across the Gulf of Mexico.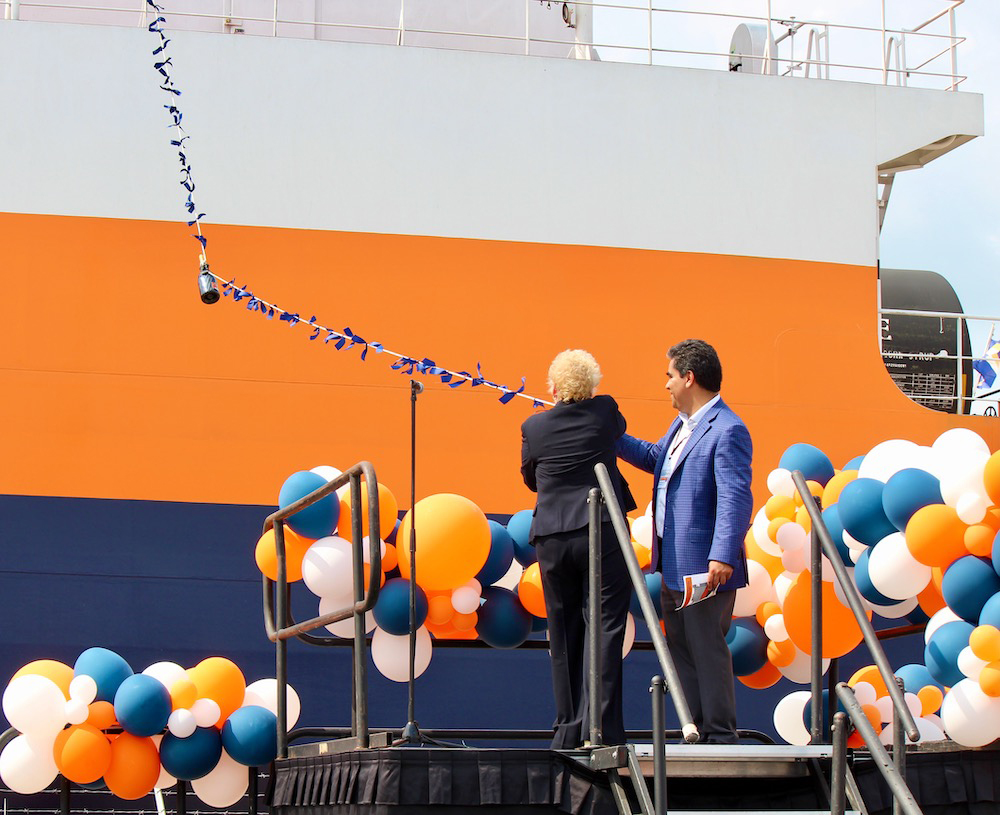 Virginia Reeves, a 34-year G&W employee who works in corporate communications, released a rope that sent a bottle of champagne swinging Tarzan-style toward the 590-foot hull of the Cherokee as part of the traditional maritime christening ceremony. "I'm already the godmother to six, but this is by far my biggest and my heaviest baby," she says.
The Cherokee's sister ship, the Mayan, was christened last week while in port at Coatzacoalcos in Veracruz, Mexico. Both vessels — billed as the largest and most advanced rail ferries in the world — were docked at Mobile during the event.
The Cherokee entered service in September and was joined by the Mayan earlier this year. They replaced the 115-car ferries that CGR had used since launching service between Mobile and Coatzacoalcos in 2001. The Cherokee and Mayan can hold 135 cars on two decks, based on an average 60-foot car length.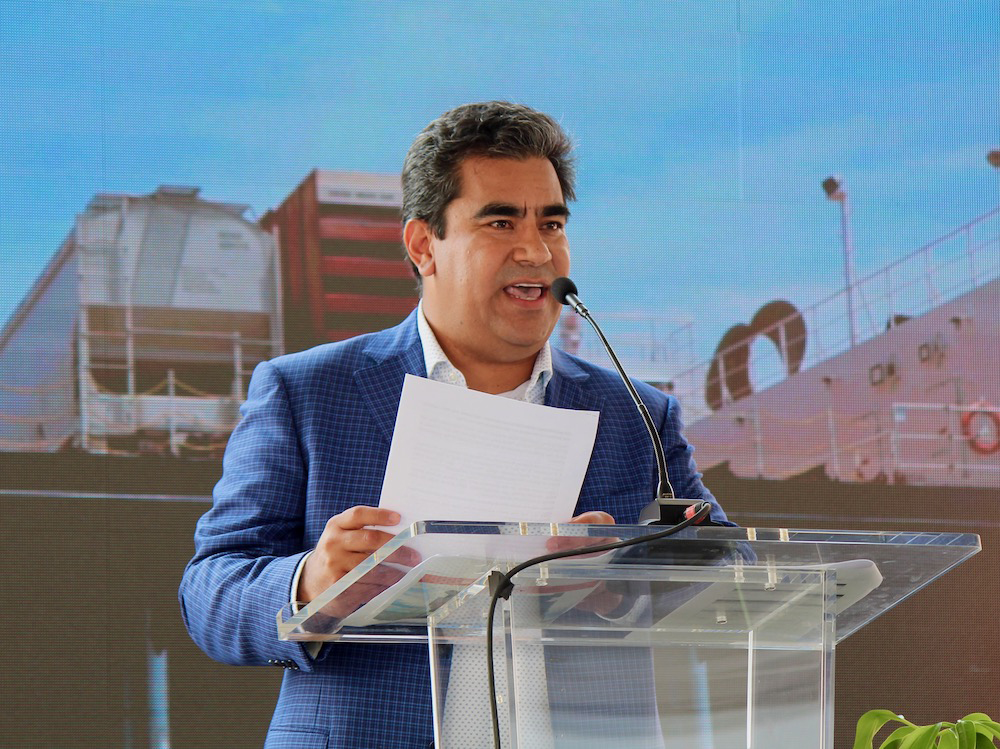 "These vessels were built with three goals in mind: To increase our loading capacity, improve our transit time, and enhance our service reliability," says CGR President Hoffman Lijeron.
The bigger, faster ferries carry 17% more cars per trip and have cut transit time in half, to 2.5 days from five. The service handles currently 10,000 annual carloads of commodities that include chemicals and plastics, fructose and refined sugar, steel, and pulp and paper. With their additional capacity, and faster speed enabling more sailings per month, the new vessels increase CGR's potential annual capacity by 40%.
The 965-mile voyage across the Gulf of Mexico is a shortcut compared to the 2,200-mile all rail route that takes 10 days or more. And the clean-burning ships generate lower carbon dioxide emissions than the old ferries or land transportation via rail or road.
G&W and its marine partner, SEACOR Holdings Inc., formed a joint venture in 2017 to acquire the rail ferry operation from International Shipholding Corp.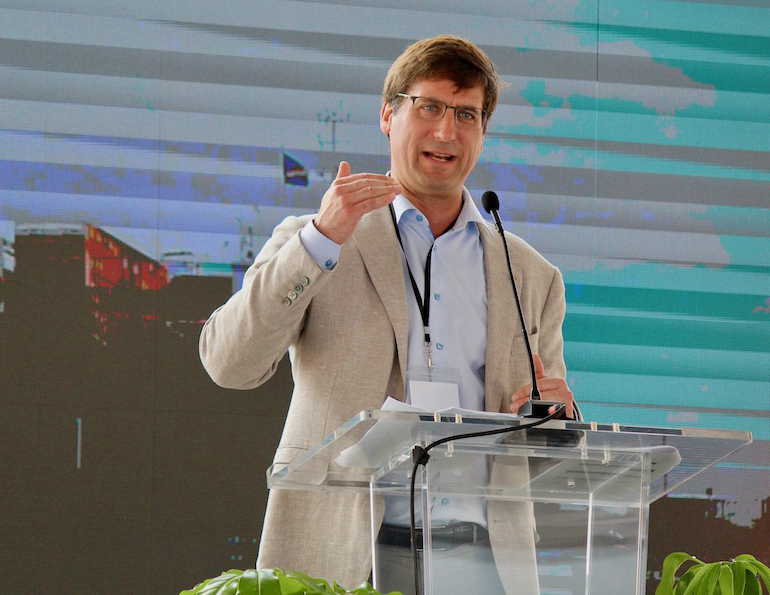 G&W CEO Jack Hellmann noted that the short line holding company operates 33 railroads in the Southeast, one of the railroad's growth markets.
"But nothing's as exciting as what we have today with CG Railway, which is a natural extension of our service offerings from the Port of Mobile," Hellmann says. "Our partnership in the joint venture combines the maritime expertise of SEACOR with the railroad expertise of G&W to create an innovative logistics solution for customers east of the Mississippi River who are seeking to access growing markets in central and southern Mexico."
SEACOR CEO Eric Fabrikant says replacing CG Railway's aging ferries was the top priority after acquiring the company. The old vessels were built in the 1970s and had been converted to rail ferries from drydock vessels that once hauled other ships.
"The investment in these vessels … is a testament to the power of collaboration and partnership," Fabrikant says.
After the christening, CG Railway's switching provider, the state-owned port short line Terminal Railway Alabama State Docks, pulled a handful of cars off the Cherokee that had been staged for the event.
In Mobile, CG Railway directly interchanges with TASD, Canadian National, CSX Transportation, Norfolk Southern, and G&W short line Alabama & Gulf Coast Railway, which offers connections to BNSF Railway and Kansas City Southern.
In Mexico, cars are interchanged with Grupo Mexico's Ferrosur and Ferromex.