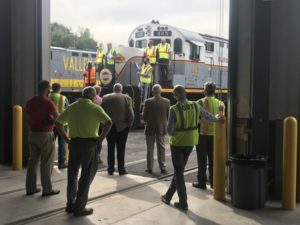 SCRANTON, Pa. — Delaware-Lackawanna Railroad Alco C420 No. 405 gently broke through a ceremonial ribbon this morning, officially opening Genesee Valley Transportation's Delaware-Lackawanna Railroad Von Storch Locomotive Shops.
Located in the Green Ridge section of Scranton, the steel structure features two 200-foot tracks inside, with an 83-foot walk-in inspection pit. A 20-ton crane will allow shop forces to perform most major locomotive work. The building will serve as the maintenance base for GVT's growing fleet of 35 active Alco and Montreal Locomotive Works diesels that work on the company's four railroads in Pennsylvania and New York.
Showing the company's diverse roster, five Alcos carrying the schemes of GVT, Delaware & Hudson, Central Railroad of New Jersey, and Lehigh Valley stood outside the shops during the ceremony.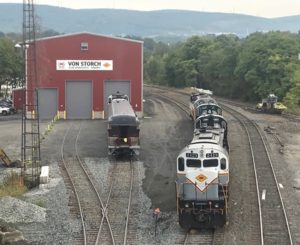 In addressing attendees including Scranton's mayor and representatives from other elected officials' offices, Genesee Valley Transportation President David Monte Verde remarked that the locomotives pay homage to the railroads that once served the Scranton area.
The new shop occupies land that once was the site of Delaware & Hudson Railway's roundhouse and primary yard for the Scranton area, adjacent to D&H's large Von Storch mine and coal breaker. All are long gone. Today, Delaware-Lackawanna Railroad serves customers along the remaining 23 miles of D&H between Scranton and Carbondale. This route and the former Delaware, Lackawanna & Western main line over the Pocono Mountains are operated by Delaware-Lackawanna under a public-private partnership with owner Pennsylvania Northeast Rail Authority. GVT paid for the $2.5 million facility.
The new Von Storch shop replaces a cramped two-track facility in South Scranton built in 1985 by an earlier operator of the ex-D&H trackage. That building will remain in use for track equipment maintenance.
The shop ceremony came the day after the Federal Railroad Administration announced the Delaware-Lackawanna would receive a $900,000 Consolidated Rail Infrastructure and Safety Improvements grant for improvements at Scranton's Green Ridge Yard [see "Ohio, Texas lead recipients of federal Consolidated Rail Infrastructure grants," Trains News Wire, Sept. 23, 2020].