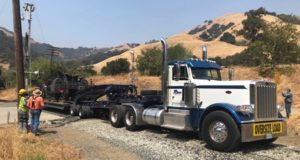 SUNOL, Calif. – The last major piece of a significant California steam locomotive has returned to the Golden State.
On Wednesday, a truck delivered the frame and running gear for Southern Pacific 2-6-0 No. 1744 to the Pacific Locomotive Association. The 1901 Baldwin will be rebuilt for operation on the association's Niles Canyon Railway.
The Mogul operated for many years out of Oakland on the SP Western Division and in California's Central Valley where the type were fondly called "Valley Mallets" by their crews for their pulling power. The locomotive was made famous in later years by operating on several of the final SP steam excursions.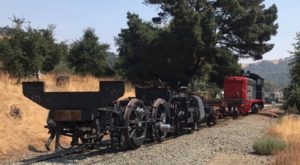 After retirement in 1958, the locomotive operated at the Heber Valley Railroad in Utah, moved to Texas and was restored for a brief period of operation in New Orleans. Iowa Pacific bought the locomotive and ran it on the San Luis & Rio Grande over Colorado's La Veta Pass in tourist service during 2007 until it was sidelined with boiler issues. The locomotive was disassembled and boiler work was started, before work was halted because funding ran short. The locomotive has been disassembled since 2008, with the boiler moving from Alabama to Texas and back to Colorado; it is now at a contract shop for repairs, while the rest of the locomotive is at Niles Canyon.
For more information, or to donate, go to the 1744 page of the Pacific Locomotive Association website.
— Note: Locomotive date corrected to 1901 at 12 p.m. CDT.