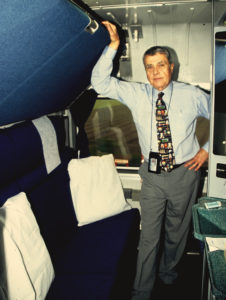 WASHINGTON — Former Amtrak president David Gunn believes the company's plans to cut most long-distance trains to triweekly operation beginning in October will lead to a permanent reduction in serviceable rolling stock, and cost the company employees with the expertise necessary to run the system in the future.
"If you want to preserve the network, you have to keep it running to attract passengers back," Gunn said in an interview with Trains News Wire from his home in Nova Scotia.
Amtrak President and CEO William Flynn and Stephen Gardner, Amtrak's senior executive vice president and chief operating and commercial officer, contend the company's plan to cut departures will, in fact, maintain routes while conserving cash [see "Amtrak leadership defends value of triweekly service as short-term move," Trains News Wire, Aug. 17, 2020]. Those cuts also figure into plans to furlough almost 2,000 workers while also further trimming management [see "Amtrak tells employees it will furlough 1,950 workers," News Wire, Sept. 1, 2020]
Amtrak's plans will be subject of a hearing this Wednesday, Sept. 9, before the House Transportation and Infrastructure Committee's Subcommittee on Railroads, Pipelines, and Hazardous Materials. Scheduled witnesses for the hearing, "Amtrak's response to COVID-19," include Flynn and Jim Mathews, president and CEO of the Rail Passengers Association. A live stream will be available here, on the House Transportation and Infrastructure Committee's YouTube Channel, beginning at 11 a.m. EDT.
Gunn recalls toll of cuts
Gunn disagrees with the core premise of cuts.
"It takes a long time to train somebody," he says. "If they get rid of a lot of these engineer, conductor, and road foreman professionals, you're not going to have the people to run the trains. More important, with the way they are running the place [emphasizing cost cutting], the equipment not in use will be cannibalized, and you'll wind up with yards full of cars and locomotives full of missing parts."
That was the organizational mentality he encountered in 2002 upon taking the helm at Amtrak when it teetered near bankruptcy. Because the company had been running out of cash for several years, there was intense pressure to cut spending.
"Mechanical people were being pushed to lower expenses," Gunn recalls. "If, say, an air compressor goes out and there's a piece of equipment parked there, you just grab something off of it instead of buying a new part. Your bottom line looks great to your bosses — for the short term — until you need that car or locomotive you just cannibalized."
Gunn and Jonathan Klein, his newly hired Chief Mechanical Officer, put an immediate stop to the practice once they assessed how many spare cars and locomotives, maintained in a state of good repair, were needed to run the network.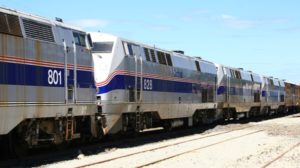 Klein moved cannibalized Amfleet I coaches and P40 locomotives to the company's Bear, Del., heavy maintenance facility and began an inventory of out-of-service Superliners on the back lot at the Beech Grove shops.
"When Klein stored locomotives, he had the cab doors welded shut so mechanical forces would keep out," Gunn quips.
The company had been taking delivery of P42 locomotives as late as October 2001, to help beef up mail and express, but Gunn's decision to de-emphasize that business after analyzing costs and revenues meant many P40s, which began arriving in 1993, could be sidelined at Bear.
Along with those cutbacks, under Gunn, the company developed an organizational chart and budget that could account for every authorized position — for example, the number of trainmasters, engineers, and Red Caps needed at every location. With that preparation, Gunn says, "We were able to drop headcount by 4,000 without a hiring freeze or buyout. I think the people in the field bought in to our attempt to bring costs under control because it made sense."
Staying away from long-distance reductions
Gunn and the company's board of directors never considered reducing long-distance train frequencies, in part because an attempt to do so during mid-1990s cost-cutting weakened the system until daily service was restored. It also led to elimination of two routes [see "Former Amtrak president revisits previous move to triweekly service," News Wire, Aug. 3, 2020]. "The other thing," he says, "if you take trains off, you lose the slots [from host railroads] and probably would never get them back."
Despite mismanagement that had left the company in dire financial straits, Gunn says, "We were able to get the largest appropriation Amtrak ever had up until that time because we had the support of politicians from both parties. I remember taking both Montana senators on the Empire Builder — Conrad Burns was a curmudgeon, but he was a big supporter of the train. We got the money because we paid attention to the long-distance trains, not because we were running trains between New York and Washington.
"Congress thinks they're not subsidizing the Northeast Corridor except on capital, but the NEC is in more trouble than the long-distance trains," Gunn continues. "If you can't give Congress a reason to for keeping the long-distance network together, then you can't give them a very good reason to subsidize that corridor."
He observes, "You never had a situation until (former president) Joe Boardman left in 2017 where management wasn't trying to preserve Amtrak; you always had the guts of the company fighting back. It's completely disingenuous the way they are selling this triweekly plan. In this environment, management should keep daily service to preserve the network at least until we know that things will return to something approaching normal."