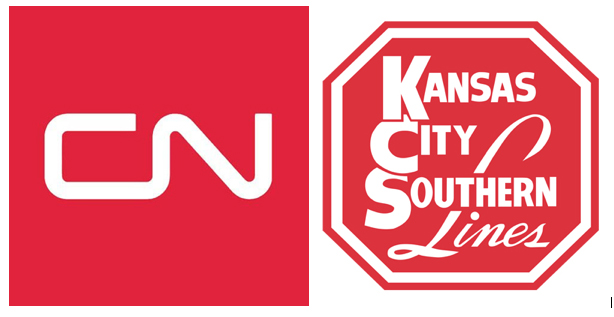 WASHINGTON — Federal regulators Tuesday rejected Canadian National's request to put Kansas City Southern into a voting trust, dealing a serious blow to the first merger between Class I railroads in two decades.
The Surface Transportation Board's decision that placing KCS into a voting trust was not in the public interest may prompt the railroads to scuttle their $33.6 billion deal to create the first railroad linking Canada, the U.S., and Mexico.
The board said CN and KCS adequately explained how the voting trust would insulate KCS from unlawful control by CN while the merger is under regulatory review. "But the Board finds that the proposed use of a voting trust, in the context of their impending control application, would not be consistent with the public interest," the STB said in a unanimous, 33-page decision.
CN, in a statement issued at 10:15 p.m. EDT Tuesday, said it is "disappointed" with the decision and is "evaluating our options available to us in light of the STB's decision."
Placing KCS into a voting trust — a key first step in the merger process — would potentially harm the public interest in two ways, the board said. The first would be its potential impact on competition between CN and KCS while the merger is under review. The second was if CN were forced to sell KCS if the merger were rejected.
The STB said that the Class I merger rules adopted in 2001 changed the board's voting-trust standard. But the board said that a voting trust was not essential and that CN and KCS could still proceed with a merger using different deal terms.
The board's ruling may lead to a revival of Canadian Pacific's efforts to combine with KCS. CP and KCS announced their $29 billion merger deal in March, only to have CN swoop in with a higher offer that KCS accepted in May. CP this month sweetened its deal to $300 per share, or $25 below CN's offer. The board has already approved CP's proposal to put KCS into a voting trust and would review a CP-KCS merger under the less-stringent, pre-2001 merger review rules.
CN had argued that its KCS trust proposal was identical to CP's plan that the board approved and therefore its voting trust should receive the board's blessing as well.
The STB disagreed, noting that the CN-KCS merger would be judged under the tougher new merger rules, while CP-KCS would be reviewed under the old rules. The STB also said the mergers are fundamentally different because CP-KCS would be a true end-to-end merger, while CN-KCS involves some route overlap.
The STB also said that approval of a CN-KCS voting trust arrangement could lead to further consolidation among Class I railroads.
"A simple geographic analysis of the rail network would suggest that a carrier in CP's position, i.e., one that would be the smallest carrier by far after a CN-KCS combination, might need to look for potential strategic alliances, which might in turn trigger yet more strategic responses by other rail carriers," the STB said. "Approval of a CN-KCS voting trust could speed up downstream consolidation movements prior to the Board even having had an opportunity to assess them based on the record yet to be developed in this proceeding."
CN's statement late Tuesday said the railroad remains confident that its acquisition of KCS "is in the public interest … We continue to believe that the combination of CN and KCS would enhance competition, expand North American trade and power economic prosperity, provide new and faster routes, increase supply chain efficiency, and deliver other benefits to the public good."
KCS did not comment on the board's decision Tuesday. KCS shareholders are set to vote on the CN merger proposal on Friday. It's unclear if KCS will still hold the shareholder meeting in light of the board's decision. The rejection of the voting trust puts CN on the hook for a $1 billion breakup fee to be paid to KCS. CN already picked up the tab for KCS's $700 million breakup fee payment to CP.
Railroads commonly use voting trusts that allow the railroad being acquired to remain independent while the merger is under regulatory review. Absent a voting trust, it's possible that another suitor for KCS could emerge and top CN's bid, analysts and railroads have said.
Canadian Pacific — which has touted its proposed union with KCS as the only end-to-end Class I merger that could gain regulatory approval — welcomed the ruling.
"The STB decision clearly shows that the CN-KCS merger proposal is illusory and not achievable," CP CEO Keith Creel said in a Tuesday afternoon statement. "Knowing this, we believe the August 10 CP offer to combine with KCS, which recognizes the premium value of KCS while providing regulatory certainty, ought to be deemed a superior proposal. Today, we have notified the KCS Board of Directors that our August 10 offer still stands to bring this once-in-a lifetime partnership together." CP will hold a conference call with investors on Wednesday morning to discuss the situation.
But CP will have to wait a while to relaunch its merger bid: The CN-KCS merger agreement does not expire until February.
"I can't say I'm surprised," says independent analyst Anthony B. Hatch of the board's decision.
The KCS voting trust decision sends a clear signal about potential downstream impacts of a merger involving two Class I systems, he says.
— Updated at 2:20 p.m. CDT to add second CP offer, information on CN breakup fee; updated at 5:05 p.m. with CP statement; updated at 9:30 p.m. CDT with CN statement.
Trains Editor David Lassen contributed to this report.