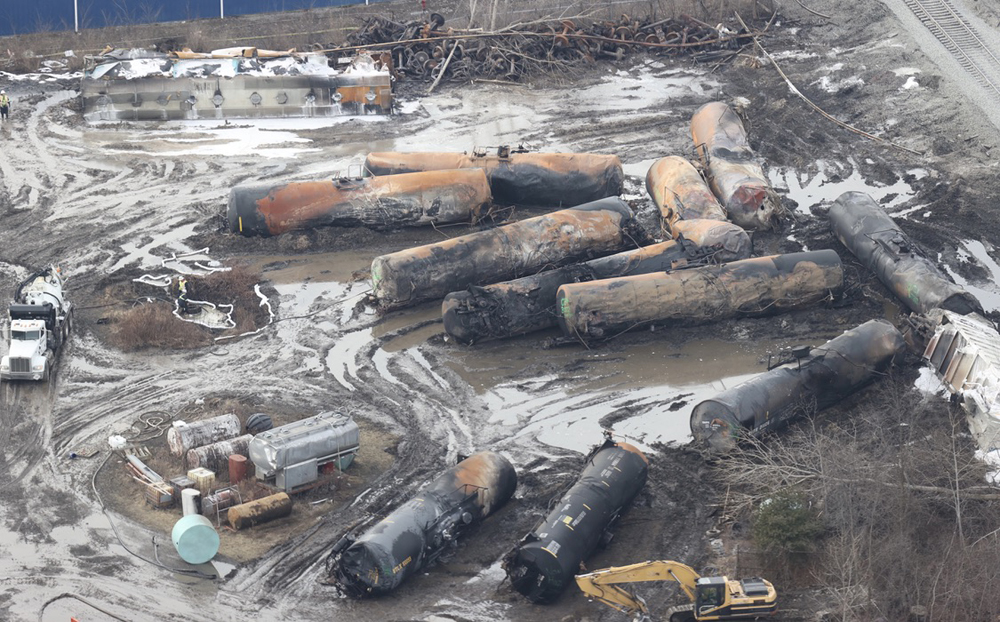 ---
EAST PALESTINE, Ohio — The evacuation order for those living within a mile of the site of last week's Norfolk Southern derailment and fire has been lifted, Ohio Gov. Mike DeWine announced this afternoon (Wednesday, Feb. 8).
Residents within the evacuation zone will be offered air-quality checks of their homes, the Akron Beacon Journal reports, and multiple agencies will continue to monitor air and water quality in the area.
National Public Radio reports that U.S. Environmental Protection Agency official James Justice says monitoring at hundreds of locations "show that the air quality in the town is safe.
Roads remain closed in the area, so residents are being given directions around those closures to regain access to their properties.
The Beaver County (Pa.) Times reports that all roads in the Pennsylvania portion of the evacuation area have been reopened, and that the director of Beaver County Emergency Services said the agency would be contacted all evacuated residents "to see what their needs may be and getting them in the right direction."
Residents were asked to evacuate following the derailment of 50 cars of the NS train on Friday night. Ten of those cars included hazardous materials, including five of highly toxic vinyl chloride; a controlled release of the material in those cars on Monday has allowed the situation at the derailment site to stabilize.
The Times also reported that Scott Deutsch, Norfolk Southern's regional manager, hazardous materials, said several grade crossings near the accident site would be subject to closure for the next several weeks as derailment cleanup continues. He also said the railroad's Family Assistance Center, to help with reimbursements and other expenses resulting from the evacuation, will remain open for the "foreseeable future."
NS has not updated its Feb. 6 alert to customers, in which there was no estimate when service would resume on the line through East Palestine, its main route between Cleveland and Pittsburgh. Amtrak, which has cancelled the last five days of the Capitol Limited, is still listing Thursday evening's departures from Washington and Chicago as operating on the "train status" section of its website as of 7 p.m. CST today, although that clearly remains subject to change.