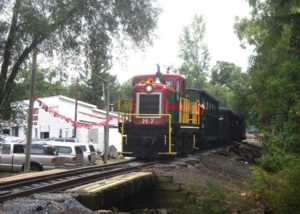 ORBISONIA, Pa. — The revitalized East Broad Top Railroad has announced several fall events, offering visitors several opportunities to visit the railroad, ride trains and enjoy a barbecue dinner.
On Friday, Sept. 18, and Saturday, Sept. 19, 90-minute guided tours of the East Broad Top shops complex will be offered at 11 a.m. and 2 p.m. Each tour will be limited to 15 people, and masks and social distancing will be required. A second set of tours will be offered on Friday Oct. 16, and Saturday, Oct. 17, at 11 a.m. and 2 p.m. Tickets must be purchased in advance at $25 each.
Highlighting the tours will be operation of the stationary steam engine and demonstrations of the shop's line shaft and belt system. In addition, visitors will be able to view work underway on steam locomotives Nos. 14 and 16, as well as rehabilitation work on the line's 19th-century passenger equipment.
Also, on Oct. 2 and 3, a Harvest Moon Barbecue and train ride are planned. There will be two seatings for the catered barbecue each day, at 4:30 p.m. and 6 p.m. Following the dinners, diesel locomotive M-7 will take visitors on a ride on the newly rehabilitated track to McMinn's Summit and return.
Tickets and additional information on all events are available here.
The narrow gauge East Broad Top was purchased in February 2020 by the East Broad Top Foundation, Inc. Since then, employees, contractors and members of the Friends of the East Broad Top have been overhauling equipment and upgrading track.