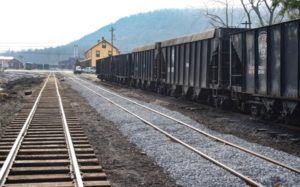 By: Dan Cupper
ROCKHILL FURNACE, Pa. — The Pennsylvania Office of the Budget has awarded a $1.4 million economic development grant to the nonprofit EBT Foundation, owner of the historic narrow gauge East Broad Top Railroad in south-central Pennsylvania.
Funding from the state's Redevelopment Assistance Capital Program will be applied to several projects, among them retiring part of a mortgage held by the previous owner as well as plans for proposed construction and rehabilitation of facilities.
The grant application lists these projects as:
— Building a new events facility at Colgate Grove, the tourist-era picnic grounds and wye track situated four miles north of Rockhill Furnace, near Shirleysburg.
— Extension of the main line northward approximately a mile to the town of Shirleysburg.
— Stabilization of buildings within the Rockhill Furnace machine shops complex, which is among the most complete early-20th-century industrial sites in existence.
— Stabilization of the railroad's coal tipple and chutes at the south end of the Rockhill Furnace yard.
— Replacement of deteriorated crossties throughout the yard.
Closed from 2011 to early 2020, the tourist railroad is in the process of rebuilding and reopening, with a goal of restarting regular passenger-train service in May or June 2021. Resumption of steam-locomotive operation is expected sometime during 2021 with at least one of the six Baldwin 2-8-2 engines on hand. The former coal-hauling railroad was shut down in 1956 and reopened for seasonal tourist service in 1960.
Since the sale of the railroad from the Joseph Kovalchick family to the Foundation last February, the foundation staff and dozens of volunteers from the Friends of the East Broad Top have been working to prepare the property for a 2021 reopening. [See "East Broad Top plans spring reopening for regular operation," Trains News Wire, Dec. 11, 2020.] Much of the labor has focused on trackwork (switch renewal, new ties, and stone ballast) and shops building stabilization.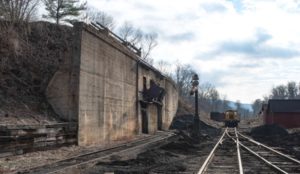 EBT Foundation General Manager Brad Esposito said the priority of the work listed in the grant application is not yet determined, but added that the funding will be "spread across multiple projects . . . to make the most impact."
The stated purpose of the grant is to aid in "the acquisition and construction of regional economic, cultural, civic, recreational and historical improvement projects." Such projects are intended to "generate substantial increases or maintain current levels of employment, tax revenues or other measures of economic activity."
The grant was announced by state Sens. Jake Corman and Judy Ward and state Rep. Rich Irvin.
This is the third grant the railroad has received since it was acquired by the foundation. Earlier, the state Historical and Museum Commission issued a $100,000 grant to aid in installing a fire suppression system in the eight-stall roundhouse and the shops complex. The Friends also awarded the foundation an $86,000 grant to shore up and stabilize the carpenter shop that is part of the historic shops.