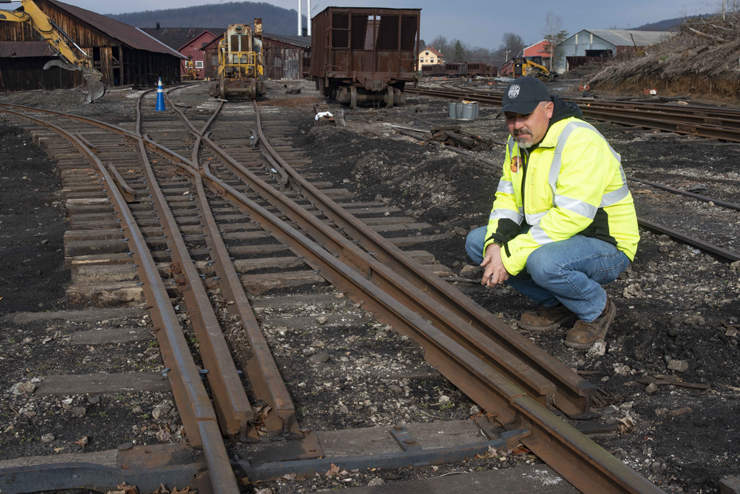 ROCKHILL FURNACE, Pa. — Regularly scheduled tourist passenger service is set to resume on the East Broad Top Railroad for the first time since the historic narrow-gauge line shut down in 2011. This will occur in May or June 2021 "with or without steam (locomotives)" said Brad Esposito, the railroad's general manager, in an interview with Trains News Wire.
Train frequency and days of operation have "yet to be determined," Esposito said, adding that "we will be planning a few special events and trains over the winter and through the spring prior to start-up as well."
East Broad Top ran a series of diesel-powered short trips in August to celebrate the 60th anniversary of the original 1960 reopening of the line. Likewise, it is currently running a series of diesel-powered "Christmas in Coal Country" excursions over the holiday season.
Earlier in 2020, the non-profit EBT Foundation, Inc., purchased 27 miles of main line; yards, shops and headquarters; six Baldwin 2-8-2 steam locomotives; and passenger and freight rolling stock from the previous owners, the Kovalchick family. Under that ownership, the railroad was saved from scrap in 1956, revived as a tourist carrier in 1960, and continued to run every season for a remarkable 51 years. When its operation could no longer be sustained under a for-profit umbrella, the family closed the railroad at the end of 2011, and sold it to the foundation [see " 'The East Broad Top will run again and again,' " Trains News Wire, Feb. 14, 2020].
Since then, the foundation and the volunteer Friends of the East Broad Top have been working feverishly to rehabilitate the track, the complete circa-1900 shop complex, and the rolling stock, with an eye to reopening the tourist-era operation from Rockhill Furnace to a wye and Colgate Grove picnic area about 4 miles north of there. Ultimately, the foundation is considering opening the main line south of Rockhill to the historic terminus at Robertsdale and Woodvale, Pa., where coal mines supplied the lading that was the railroad's reason for existence. The foundation has also floated the idea of reopening a long-abandoned mountainous branch line to offer scenic views and provide another visitor experience [see "East Broad Top eyes restoration of Coles Valley Branch," News Wire, Oct. 27, 2020], but the first goal remains to restore the main line north to Colgate Grove.
Other EBT news:
— The first steam locomotive to be restored to service will be No. 16, "sometime next year," according to Chief Mechanical Officer Dave Domitrovich. Earlier, the railroad had designated Nos. 14 (built in 1912) and 16 (1916) for restoration, but found No. 16 was in much better condition for two reasons. One, it underwent overhaul work during the last days of common-carrier operation in the 1950s, and two, it had never been used during the 1960-2011 tourist era. As a result, it did not display the wear and tear of the four engines operated during that time (Nos. 12, 14, 15, and 17). No. 16 should create an unusual amount of excitement and interest among the railfan/railroad history community, for the simple fact that it has not run since 1956. Efforts will continue on No. 14, Domitrovich said, but it will require boiler work, including moderate minor sheet repair and replacement; new flues and tubes; and considerable running-gear work. Also, he said, its drivers will be shipped to the Strasburg Rail Road for reconditioning.
— Track rehabilitation on the tourist-era main line and in the Rockhill Yard is roughly half done, with some 3,500 ties replaced out of a projected 6,500, Esposito said. About 18 switches are marked for renewal, he said, with about half of those already done, including a rare three-way stub switch at the south end of Rockhill Yard. Track 3, in the north end of the yard, has been rehabilitated after being out of service for many decades. It will give EBT operational flexibility. Esposito credited Friends volunteer Gene Tucker for much of the track work, as he has led a crew of four to 12 volunteers, two or three days a week, in addition to the Friends group's monthly weekend work sessions that draw 35 to 40 members.
— Esposito added that EBT hopes to see the damaged Runk Road bridge replaced by March. The span, which he said dates from the railroad's initial construction in 1872-73, was struck last spring by an over-height logging truck, which dented a beam and shoved the track off center. State police later identified the company responsible.
— The foundation has hired Jonathan Smith, 22, formerly with the Durango & Silverton Narrow Gauge Railroad, as a full-time sales and marketing representative. He started this week. A native of Durango, Colo., Smith has worked as a brakeman and locomotive fireman, and counts among his work experiences time with the Georgetown Loop Railroad, Colorado Railroad Museum, and Great Smoky Mountains Railroad.