---
ROCKHILL FURNACE, Pa. – East Broad Top Railroad has been awarded a $1.1 million state grant to rebuild 7.8 miles of track between the company's headquarters in Rockhill Furnace and the towns of Three Springs and Saltillo, and to support related EBT projects.
The grant awarded Wednesday, Dec. 8, is the first step toward reopening the historic narrow gauge railroad's long-disused main line south to the semi-bituminous coalfields that once supplied the majority of its traffic. That part of EBT's onetime 33-mile main line has lain disused, but not abandoned, since the road shut down common-carrier operations in April 1956.
The funding will also support work in Rockhill yard and event-facilities improvements at Colgate Grove, the picnic area at a wye 4½ miles north of Rockhill Furnace on the EBT main line to Mount Union, Pa. Mount Union was EBT's onetime connection with the Pennsylvania Railroad's (now Norfolk Southern) Philadelphia-Pittsburgh main line. In October, EBT completed restoration to the grove, which carried seasonal steam-powered tourist trains from 1961 to 2011 [see "East Broad Top fully reopens tourist-era line …," Trains News Wire, Oct. 11, 2021].
The Redevelopment Assistance Capital Program grant was announced Wednesday by state Sen. Judy Ward and state Rep. Rich Irvin, who represent the area. EBT will use the money to restore track and bridges to Saltillo, acquire property for and make improvements at Colgate Grove, purchase track maintenance equipment; improve the water supply for a planned fire-suppression system in the Rockhill Furnace shops complex and roundhouse; and repair a historic Rockhill Iron & Coal Co. office building.
"The EBT Foundation is grateful for the support of Sen. Ward and Rep. Irvin," EBT General Manager Brad Esposito said in a statement. "We are excited to expand the East Broad Top Railroad's footprint in the region and the opportunities for greater economic development that will come to the boroughs of Three Springs and Saltillo and Huntingdon County in general."
This is the second RACP grant to EBT, the first being $1.4 million awarded a year ago to support work at Colgate Grove and stabilize buildings in the Rockhill machine-shops complex.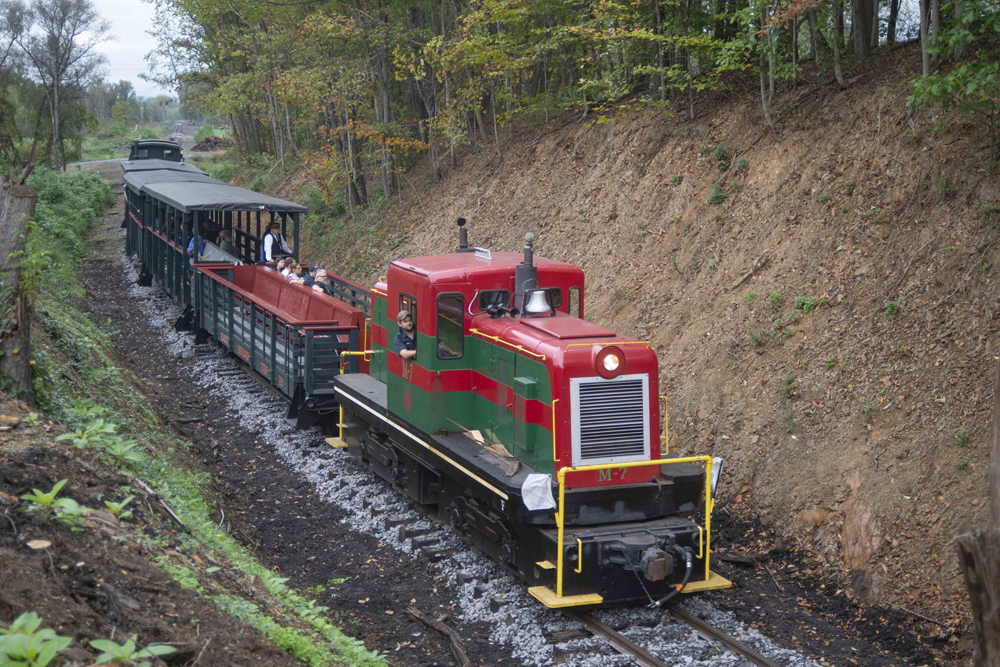 A National Historic Landmark, EBT was revived after lying dormant for nine years between its closure as a tourist operation in 2011 and the non-profit EBT Foundation Inc.'s purchase of most of its property from the Kovalchick family in February 2020.
At its Oct. 8 Fall Reunion, the 1,610-member Friends of the East Broad Top announced that, at the foundation's prompting, it was beginning fund-raising to recreate the razed Saltillo passenger and freight station and an adjacent arson-torched 50,000-gallon enclosed square water tank. Without disclosing that the state grant was a possibility, the Foundation was in effect signaling to FEBT that it was ready to start reopening the main line southward into the more rugged, scenic, and mountainous region of southern Huntingdon County [see "Friends of East Broad Top wraps up Rockhill shops work …," News Wire, Oct. 11, 2021]. EBT Foundation has said it ultimately intends to reopen the entire line to Robertsdale and Woodvale.
Friends group nearing fundraising goal
The Friends organization announced that, in just two months, it has already raised $86,675 through 322 individual donations toward its 2022 goal of $100,000, its highest ever. The 2021 campaign, which completed the stabilization and restoration of the Rockhill machine shops complex, was set at $78,000, but topped out at $156,000, or 201% of its goal. Besides supporting the Saltillo extension ($25,000 to begin planning and architectural work), FEBT's 2022 campaign will:
— Complete repairs to the Rockhill coal tipple, including modifying it to supply water for the fire-suppression system ($30,000);
— Enhance the visitor experience at its Robertsdale EBT station and adjacent coal-mine walking tour venue ($10,000); and
— Continue supporting the work of EBT archivist Julie Rockwell, who is organizing and cataloguing the company's voluminous railroad and mining-company records ($35,000).