WASHINGTON – A U.S. DOT report critical of railroads discusses pandemic-related supply chain problems and cites concerns with Precision Scheduled Railroading, Class I railroad consolidation, and rising railroad rates.
Among the recommendations in the 141-page report, released on Thursday in response to a Biden administration executive order issued a year ago: Increased regulation of freight railroads.
"Existing regulations may need to be strengthened to address competition (such as economic regulation of railroads or ocean carriers) or other marketplace issues that are only revealed when the system is under extreme supply and demand pressures," the report says.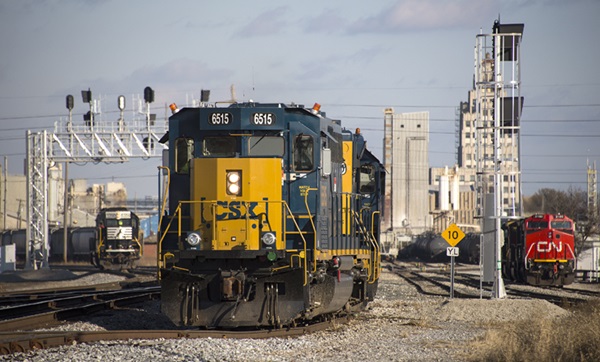 The Association of American Railroads criticized some of the report's conclusions, noting that many of the bottlenecks railroads faced in 2020 and 2021 were due to factors outside the industry's control, such as labor and container chassis shortages and a lack of warehouse capacity.
"Make no mistake: the recommendation for federal regulators to impose new economic regulations is at direct odds with the stated goals of this report to increase freight fluidity and would also lead to freight diversion away from railroads that would hinder the White House's other stated goal of reducing carbon emissions," AAR CEO Ian Jefferies said in a statement. "The current push at the Surface Transportation Board to impose reciprocal switching regulation would create inefficiencies, inhibit investment and in turn make rail transportation less competitive."
The report notes that railroads have taken steps to reduce waste and improve safety and efficiency. "But poor implementation can come at the cost of jobs and resilience, as workers are asked to do more with less. For example, the number of Class I railroad employees has declined by nearly 25 percent over the past two years," the report notes.
The document also takes aim at Precision Scheduled Railroading, the low-cost operating model now in place on all of the Class I systems with the exception of BNSF Railway.
"Railroads have increasingly adopted precision railroading, due at least partially to pressure from investors seeking to prioritize reducing operating ratios and increasing stock value over transportation efficiency and resilience," the report says. "This business practice relies on longer trains to reduce costs; however, some shippers have complained that the practice has reduced performance and resilience, disrupted service schedules, and increased demurrage charges."
The report footnotes shipper complaints aired at a House Transportation and Infrastructure subcommittee hearing from 2019. Railroads were not represented at the session.
The report was critical of consolidation in the rail industry, which has seen the number of Class I railroads shrink from 26 in 1980 to seven today. "Across much of the country, Class I railroads have few competitors within the geographies they serve," the report says. "One analysis by a rail industry advocacy group indicates that rail shippers are bearing the financial burden of railroad consolidation."
Rail rates have increased 96% since 2002, compared to 40% for trucking, the report notes, citing data from the Rail Customer Coalition, a shipper lobby group representing an array of manufacturing, agricultural, and energy industries that rely on railroads.
The report encourages the STB to require freight railroads to permit passenger railroads to use their tracks, and called for freight railroads to treat each other fairly.
The AAR contends that shippers are trying to exploit pandemic-related supply chain problems. "The report's discussion and policy recommendations directed at the U.S. freight rail sector … raise concerns that powerful special interests are coopting logistics challenges created by the pandemic to obtain below market rates and pad their own profit lines," Jefferies said.
He adds: "Freight railroads submitted extensive comments to the DOT's request for information to help develop this report, so it is unfortunate the report ignores those suggestions and comments and instead focuses on matters that would actually disrupt the fluidity of supply chains."
But the DOT report critical of railroads did contain some bright spots.
It acknowledged that port and intermodal terminal congestion was largely beyond the control of railroads and recommended that all parts of the supply chain operate 24/7. The Class I railroads told the STB last year that one solution to intermodal congestion would be for ports and warehouses to operate around the clock, as railroads do.
The report also encouraged ongoing investment in short line railroads as well as intermodal and port facilities.