Wabtec wins award for FLXdrive locomotive, Golden Stevie Award; gains contract for equipment in India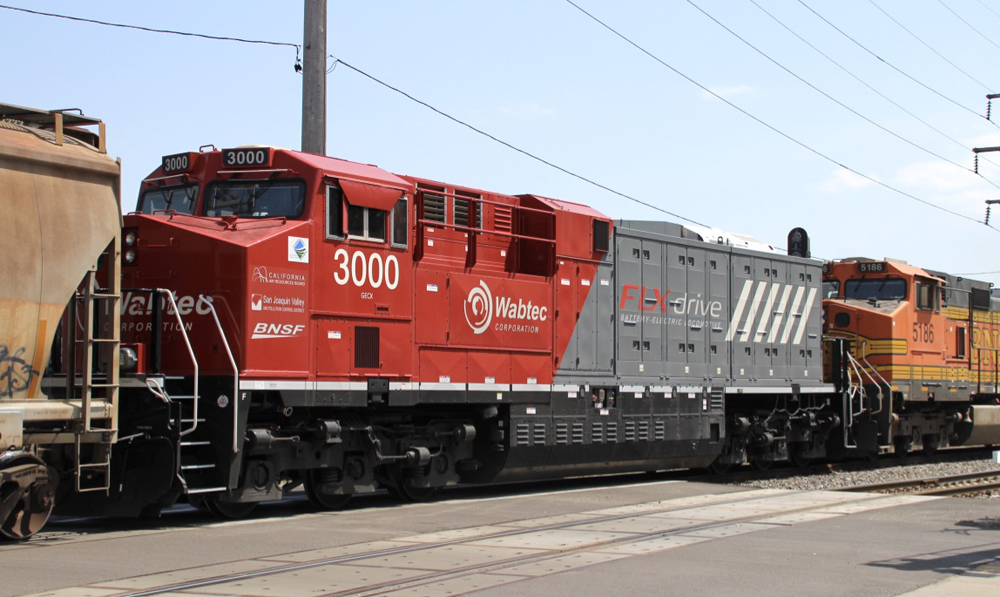 Wabtec's FLXdrive battery-electric locomotive has been named a winner of Fast Company magazine's World Changing Ideas for 2021 in the transportation category. The locomotive, which recently concluded more than 13,000 miles of testing in Southern California, uses more than 18,000 battery cells and works with conventional diesel locomotives to create a hybrid. Fast Company's report on the award is here. Wabtec also announced it has won a Gold Stevie Award for Company of the Year in the Automotive and Transport Equipment category of the 2021 American Business Awards, and that it has won a contract valued at about $15 million for components in new rapid transit rolling stock to be built by Alstom for India's Delhi-Meerut Regional Rapid Transport System.
CN to hold two webcasts on KCS merger plans
Canadian National will hold webcasts on Wednesday and Thursday to discuss its bid for Kansas City Southern with investors. Wednesday, at 11:30 a.m. EDT, CEO JJ Ruest and Chief Legal Officer Sean Finn will discuss steps to regulatory approval and a timeline for the merger effort. Thursday, at 10 a.m. EDT, Ruest and Doug MacDonald, senior vice president, office of the president CEO, special projects, will discuss operational and commercial benefits. Live audio webcasts will be available at the investor section of CN's website. CN announced earlier Tuesday morning that another 100 letters have been filed with the Surface Transportation Board in support of its merger proposal.
Maryland DOT to study expansion of MARC to Western Maryland
The Maryland Department of Transportation will study possible expansion of MARC commuter rail service into Western Maryland. The Hagerstown Herald-Mail reports legislation passed by the state's General Assembly requires the state DOT to study three possible routes branching off MARC's Brunswick line, which runs northwest from Washington and splits at Point of Rocks for Frederick, Md., and Martinsburg, W.Va., The study is part of a larger transit bill still awaiting the signature of Gov. Larry Hogan, and would require the study to be completed by 2023. It will analyze costs and whether existing rail lines could be used or need additional infrastrucgture work. The results will be part of a long-term state transit plan.