Still more Monday morning rail news: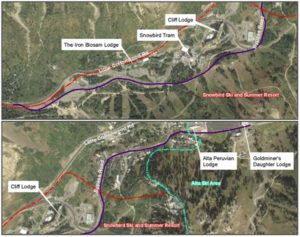 Utah governor indicates preference for gondola system to service ski areas, but says decision has not been made
Utah Gov. Spencer Cox is leaning toward seeing a gondola system, rather than a cog railway or enhanced bus service, as the solution to traffic in Little Cottonwood Canyon, the route to the Snowbird and Alta ski resorts. But the Deseret News reports Cox also says the public process including a study by the Utah Department of Transportation and work by the Central Wasatch Commission needs to be complete before a choice is made. The three options were included in a Utah DOT report released in November considering methods to deal with congestion on the canyon's heavily used road [see "Digest: Utah considers cog railway to serve ski resorts," Trains News Wire, Nov. 23, 2020]. Cox told the newspaper one reason he favors the gondola is it will be less subject to problems resulting from severe snowstorms or avalanche control efforts.
Consulting firm chosen for Chicago-Dubuque rail feasibility study
Chicago-based engineering firm Quandel Consultants has been selected to conduct a feasibility study for Chicago-Dubuque, Iowa, rail passenger service. The Dubuque Telegraph Herald reports the firm is negotiating a contract with the Dubuque Metropolitan Area Transportation Study committee for the 13-month project to evaluate routes, ridership, stations, infrastructure, service speeds and frequencies, costs, and revenue potential for the proposed service. Resumption of service to Dubuque, which ended in 1981, is dependent on the current efforts to revive Chicago-Rockford service [see "Digest: Effort to restart Chicago-Rockford passenger service takes step forward," Trains News Wire, Sept. 25, 2020].
UP among those named in suit over toxic chemicals at county office building in Las Vegas
Union Pacific is among parties named in a lawsuit claiming that seven people have died and a number of others have become seriously ill because of exposure to toxic chemicals at the Clark County government center in Las Vegas, Nev., which was built on a former UP rail yard. The Las Vegas Journal-Review reports that the county, city, Union Pacific, and other companies associated with rail operations are being sued by more than 50 plaintiffs. The city and county declined comment, while a Union Pacific spokesman said the railroad had not yet reviewed the complaint in detail, but said the company had performed environmental cleanup at the site of its former yard under direction of the Nevada Department of Environmental Quality. The government center opened on the former yard site in 1995.