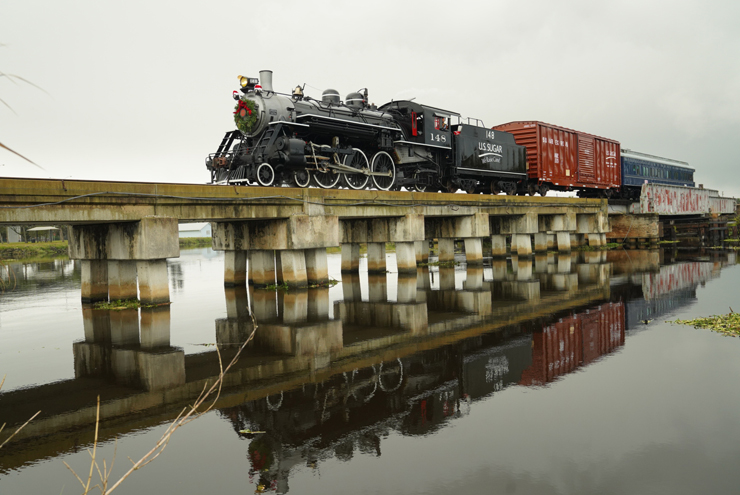 U.S. Sugar fires up No. 148 for 'Santa Express'
U.S. Sugar volunteers, joined by members of the U.S. Marine Corps and local representatives from Toys for Tots, operated its 4-6-2, No. 148, as the "Santa Express" from U.S. Sugar's Clewiston, Fla., headquarters on on Saturday, delivering presents for children of the Florida Glades farming communities and highlighting support organizations such as Toys for Tots. The Belle Glade Boys and Girls also received a delivery of toys. "Giving back to our communities during the holiday season is especially important, particularly when many families are experiencing difficulties related to the pandemic and the economic downturn across many industries," U.S. Sugar Community Relations Manager Brannan Thomas said in a press release. "Our farmers have been blessed to be able continue farming since the pandemic began, so in addition to growing food for American families, helping our neighbors in whatever way we can, is also part of what rural farming communities do to take care of each other." The steam engine made stops in Moore Haven, Clewiston, Belle Glade and Port Mayaca. The locomotive, built by Alco for Florida East Coast in 1920, was acquired by U.S. Sugar in 1952 and operated for a number of years. The sugar firm reacquired the locomotive in 2016 and restored it to operation.
Durbin & Greenbrier Valley begins work on bridge to connect Cass, Durbin
The Durbin & Greenbrier Valley has begun work on the Trout Run Bridge project, the final step in restoring rail service between Cass and Durbin, W.Va., for the first time since 1985. For four weeks, the West Virginia Department of Highways, State Rail Authority, Durbin & Greenbrier Valley crews, and contractors have been working drilling holes into the bedrock and pouring foundations for the foundations on the Durbin side of the bridge. That work was completed Dec. 9, and equipment — which can only be moved by rail to the remote location — is now being staged for work on the Cass side. To reach the opposite side of the bridge, 100 feet away, the equipment must be transported 15 miles by rail and 19 by road. While drilling and foundation work is being completed on the Cass end of the bridge, another crew will be building forms for the abutment on the Durbin end.
British heritage railway decorates train with 13,000 lights
A British heritage railway, shut down for four months because of COVID-19, has created a spectacular display for the holidays, operating a train decorated with 13,000 Christmas lights. The BBC has video of the Mid Hants Railway Watercress Line, which has outfitted its S-15 steam locomotive and train with help from government grants and support from the Heritage Lottery Fund after losing about a million pounds in revenue this season. More information is available at the railway website.