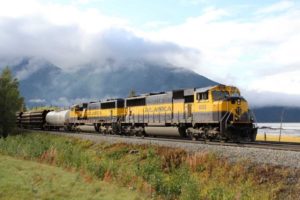 Monday morning rail news:
President gives nod for proposed Alaska rail link
President Donald Trump said in a tweet on Friday that he plans to issue a permit for a proposed railroad connecting Alaska to Canada, thereby allowing through rail service to the rest of the U.S. and Canada. The Anchorage Daily News said the tweet cited the influence of two members of Congress, Sen. Dan Sullivan and Rep. Don Young, for the decision.
Michigan man sentenced for defrauding Amtrak
A Milan, Mich., man has been sentenced to six years in federal prison for defrauding Amtrak of more than $540,000, as well as firearms charges. WDIV-TV reports that Christian Newby, 32, pleaded guilty to wire fraud and aggravated identity theft for the scheme in which he obtained credit card information for more than 1,100 people, used that information to buy Amtrak tickets, then cancelled the tickets and received vouchers for the amount of the ticket from Amtrak. He would then sell those vouchers for a discount on eBay. As part of the investigation, agents searched Newby's residence and found improvised explosive devises, firearms, and narcotics.
Former NTSB chair Rosenker dies
Mark Rosenker, chairman of the National Transportation Safety Board from 2005 to 2009 has died at age 73, WTOP-FM reports. He also served in the President George W. Bush administration and on the Washington Metrorail Safety Commission.