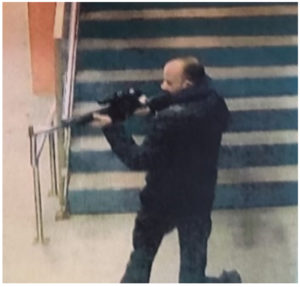 Suspect charged for allegedly firing rifle on Metra platform
A suspect has been charged with three felonies after allegedly firing a rifle on the platform of the McCormick Place station on the Metra Electric line earlier this month. In a press release, Metra reports Shawn A. Kimbrough, 40, of Chicago was charged with aggravated unlawful use of a weapon, reckless discharge of a firearm, and possession of a firearm without a Firearm Owners Identification Card. Kimbrough turned himself in to Metra police on Monday morning after he was identified as a suspect as a result of a public appeal for information [see "Digest: FBI seeks man who fired rifle on Metra Platform," Trains News Wire, Dec. 10, 2020]. The incident about 10 a.m. on Dec. 1, captured on station video cameras, showed a man pulling a rifle out of a bag and firing one round off the platform, then returning the rifle to the bag and leaving the station.
Austin receives $900,000 federal grant for Project Connect planning
Austin, Texas, agency Capital Metro has received a $900,000 Federal Transit Administration grant for Project Connect, the $7.1 billion transit program approved by voters in November. KVUE-TV reports the grant, from the FTA Pilot Program for Transit-Oriented Development, will help with anti-displacement and development efforts related to the program. The funds will be used to study a 12-mile segment planned for light rail.
STB says its approval is not needed for Virginia agency to buy CSX right-of-way
The Surface Transportation Board has ruled that Virginia's Department of Rail and Public Transportation does not need board approval to acquire CSX Transportation right-of-way as part of a deal between the state and railroad, therefore dismissing the proceeding on the transaction. The right-of-way is changing hands as part of the $3.7 billion deal announced in 2019 which will create separate passenger and freight rights-of-way to address congestion south of Washington D.C. and allow for increased passenger service [see "Virginia, CSX announce major rail infrastructure plan," Trains News Wire, Dec. 20, 2019].