Monday afternoon rail news: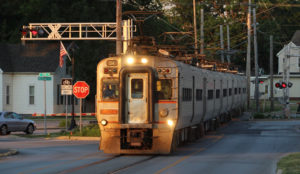 With new state rules in effect, South Shore ends 'mask optional' cars
South Shore Line commuter trains have done away with their "mask optional" car after Indiana Gov. Eric Holcomb issued an executive order on Friday on mask rules to try to help slow the state's surge in COVID-19 cases. The Times of Northwest Indiana reports face masks or coverings are now required of anyone riding a train or visiting a station, and those who do not comply are subject to removal from trains. South Shore's parent agency, the Northern Indiana Transportation District, had offered the "mask optional" cars in light of difficulties in enforcing mask rules [see "Digest: Citing enforcement issues, South Shore trains offer 'mask optional' cars," Trains News Wire, Sept. 24, 2020]
Cleanup underway for NS derailment that injured one
Cleanup continues today after a Norfolk Southern train derailed in northwest Atlanta Sunday night. WSB-TV reports one person was reported injured in the derailment, which occurred about 8 p.m. in the 2900 block of Parrott Avenue on the city's northwest side. No cargo was reported spilled in the accident. WAGA-TV's website shows a photo of a locomotive on its side.
Trial begins for man accused in French train attack, foiled by U.S. tourists, that inspired movie
A trial began today in Paris for a man accused of a 2015 attack on a French train that was foiled by three vacationing Americans, an event turned into the Clint Eastwood movie "The 15:17 to Paris." The Associated Press reports that 31-year-old Ayoub Khazzani, an Islamic State operative with ties to a terrorist mastermind, is charged with attempted terrorist murder and faces a maximum sentence of life in prison. Khazzani shot one passenger before Americans Alek Skarlatos, Spencer Stone, and Anthony Sadler tackled and subdued him. Hailed as heroes and granted French citizenship, the three are expected to testify. Skarlatos subsequently ran for Congress in Oregon, but lost his race earlier this month.