Monday morning rail news: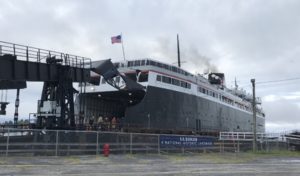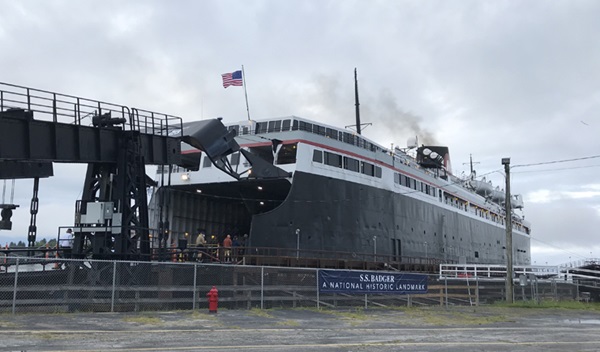 S.S. Badger, last of Great Lakes rail ferries, has new owner
The last survivor of the railroad car ferries that once crossed the Great Lakes, and the last coal-fired passenger steamship in the United States, has changed hands. The Maritime Executive reports the S.S. Badger, built in 1952 for Chesapeake & Ohio service across Lake Michigan, has been acquired by the Interlake Holding Co. Interlake operates nine Great Lakes freighters and is building the first new U.S. lake freighter in nearly four decades, and president Mark W. Barker told the website that the company is "fully committed to continuing the operation" between Ludington, Mich., and Manitowoc, Wis. The Badger, which has been designated as a National Historic Landmark, was operated by the C&O until 1980, and by a local company concentrating on rail freight until 1990. It was revived in 1992, and has operated ever since with an emphasis on leisure travel, tourism, and commercial truck traffic. Interlake acquired the ferry from the Lake Michigan Car Ferry Co., which has been owned by two local businessmen since 1994.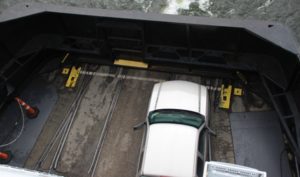 Colorado Pacific will ask STB to block lease of Tennessee Pass line
Colorado Pacific Railroad, which had one attempt to gain control of the Tennessee Pass line dismissed by the Surface Transportation Board, says it will ask the STB to block Union Pacific's agreement to lease the former Denver & Rio Grande Western line to Rio Grande Pacific's Colorado Midland & Pacific. The website Real Vail reports that Hayden Soloviev of Colorado Pacific's parent company announced that intent in a press release. Soloviev, of vice chairman of Solow Building Co. and Crossroads Agriculture, said the company will appeal on the grounds that the lease means Union Pacific "maintains its monopoly stranglehold across the Rocky Mountains in Colorado, in defiance of concerns about the Tennessee Pass line stated by the board in its decision in the 1996 UP-SP merger case." Rio Grande Pacific announced the lease last week [see "Rio Grande Pacific reaches agreement with UP to lease Tennessee Pass line," Trains News Wire, Dec. 31, 2020]. Colorado Pacific's attempt to force a sale of the route was dismissed by the STB in March [see "Regulators toss out effort to force UP to sell Tennessee Pass line," News Wire, March 18, 2020], but the company launched another bid later in the year [see "Colorado Pacific says it would offer passenger service …," News Wire, Nov. 2, 2020].
Sabotage blamed for derailment of freight train in Mexico
Sabotage is being blamed for a derailment in Veracruz, Mexico, that derailed 11 railcars carrying new vehicles for export to Europe. Mexico News Daily reports the Dec. 31 derailment came after a train carrying vehicles from a Volkswagen plant in Puebla, Mexico, to the port of Veracruz hit a section of right-of-way where thieves had removed about 6 feet of track to stop the train and steal merchandise. Six of the railcars rolled over and some dropped into a ravine.