Still more Thursday morning rail news: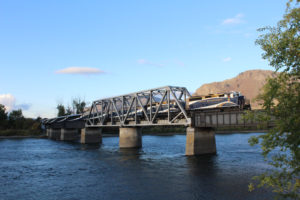 Rocky Mountaineer to launch Colorado-Utah route in 2021
Canadian luxury train operator Rocky Mountaineer will launch a U.S. train in 2021. The "Rockies to the Red Rocks" service will be a two-day trip between Denver and Moab, Utah, with an overnight stay in Glenwood Springs, Colo. The company plans to launch the service with 40 departures in a 10-week period between Aug. 15 and Oct. 23, 2021, and is working with tourism organizations, hotels, and tour operators on packages that include tours, activities, and stays in Denver in Moab. "Over the past 30 years, Rocky Mountaineer has become renowned for our world-class train travel experiences, and now we are opening our newest train experience in the region where train travel history began," Peter Armstrong, founder of Rocky Mountaineer, said in a press release. "This region, with its magnificent scenery, national parks, vast opportunities to explore, will delight millions." Two-day packages will start from $1,250 per person plus tax. Those interested can reserve a 2021 trip with a refundable $25 deposit by contacting travel agents or Rocky Mountaineer. More information is available at the Rocky Mountaineer website.
'Operation North Pole' cancels holiday train ride for seriously ill children
Operation North Pole, a Des Plaines, Ill., charity that includes a ride on a specially decorated Metra train as part of its effort to help seriously and terminally ill children during the holiday season, has cancelled its annual Winter Wonderland event. "Given that many of our special guests are immune-suppressed with chemo therapy and other medical treatments, ONP needs to err on the side of caution in these stressful times," the organization says in a statement on its website. "We hope to resume our event as soon as it is safe to do so." Instead, this year the organization will aid children in need by assisting the Mission of Our Lady of the Angels in Chicago's Humboldt Park neighborhood. More information is available at the Operation North Pole website.
With 12 counties as members, Big Sky Passenger Rail Authority prepares for first meeting
Twelve counties have completed the process of joining Montana's Big Sky Passenger Rail Authority, and the agency seeking restoration of Amtrak service on the former North Coast Hiawatha route could hold its first meeting in July. The Missoula Current reports the 12 members represent half the counties along the "southern tier" route, and is far more than the two counties that were required to form the agency under state law. Missoula County Commissioner Dave Strohmaier, who has led the effort to form the agency, says it will involve Montana State University's local government center as part of the initial meetings, which will involve appointing officers and strategic planning.