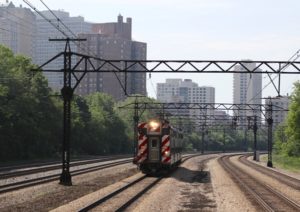 Tuesday morning rail news:
Metra board to vote on proposal to lower fares on two lines
Fares on the Metra Electric and Rock Island District lines would drop to $2.50 per ride, the same as those for Chicago Transit Authority L service, under a proposal by Cook County Board President Toni Preckwinkle. The Fair Transit South Cook Pilot Program is an effort to address communities on Chicago's South Side that are underserved by transit. Preckwinkle told the Hyde Park Herald the county would subsidize fares on those lines for a three-year period as a pilot program. The proposal must still be approved by Metra's board at its meeting in November, and the county board in December. Metra CEO Jim Derwinski said in a statement that the commuter railroad "looks forward to implementing this pilot and improving transit on the South Side and in the south suburbs." The plan, which prior to the COVID-19 pandemic also called for increased service on the two lines, has been opposed by Chicago Mayor Lori Lightfoot, who believes it will hurt CTA ridership [see "Chicago mayor opposes plan for expanded Metra service on South Side," Trains News Wire, Sept. 19, 2019].
Farmers end rail blockade in Chihuahua, Mexico
Farmers in Chihuahua, Mexico, have ended a blockade of rail lines that began Aug. 26 after the government agreed to address their demand. 
Mexico News Daily reports
 eight piles of earth and gravel were removed from the tracks on Sunday, ending blockades that were estimated to have caused about $1.3 billion in losses to local industries. The farmers had a list of nine demands, including an end to diversion of water to the U.S. from dams in the region.
Coalition forms to push for Vancouver Island rail service
Groups which have been advocating for the return of rail service to British Columbia's Vancouver Island have united to form the Vancouver Island Transportation Corridor Coalition, seeking to obtain the funds necessary to revive the long-dormant Esquimalt & Nanaimo and Canadian Pacific trans on the island. CTV News reports Jack Peake, media relations officer for the coalition, says funding already exists in the form of the Canadian government's carbon tax, and the task is to get the government to participate. The organization plans public events to raise awareness for the project and to convince government agencies to provide support.