Rail worker safety makes NTSB's 'Most Wanted List' of transportation improvements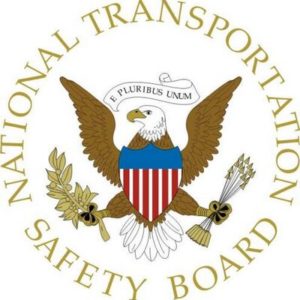 A goal of improving rail worker safety is among the 10 items landing spots on the National Transportation Safety Board's 2021-22 Most Wanted List of transportation safety improvements, finalized during a Tuesday NTSB board meeting. "Board members of the NTSB and our advocacy team continuously seek opportunities to communicate about items on our Most Wanted List," NTSB Chairman Robert Sumwalt said in a press release. "As we begin advocacy efforts for the 2021-2022 MWL, we call upon our advocacy partners to amplify our safety messages and help us bring about the safety improvements that will make transportation safer for us all."  The 2021-22 list is meant to draw attention to more than 100 recommendations related to the 10 items, which are each specific to a mode of transportation, as opposed to broader issues featured on previous lists. The complete list is available here.
STB rule sets minimum standards for demurrage bills, addressing shippers' desire for more transparency
The Surface Transportation Board has announced adoption of a final rule on demurrage billing requirements, setting minimum information requirements for demurrage bills issued by Class I railroads. Requirements include information on billing cycle, shipment, car placement, and credit and debit information, and refelect information the board has determined will have the greatest impact on the ability of rail users to review and verify demurrage charnges, and to facilitate the resolution of disputes. Tuesday's ruling reflects the results of a two-day hearing in May 2019 allowing shippers to comment on charges by Class I railroads; a common theme in those hearings was that demurrage invoices were confusing, difficult to verify, and lacking in basic information. The new rule is designed to improve the transparency and uniformity of demurrage invoices. "I anticipate that the rule will reduce the need for litigation or further regulatory intervention related to what should be fairly straightforward and routine commercial interactions," STB Chairman Martin J. Oberman said in a press release. " I further expect that the new rule will promote more productive dialogue between Class I railroads and rail users to either avoid unnecessary disputes over demurrage charges or hasten their resolution." The full ruling is available here.
Plans announced for Mobile-area logistics park offering connections to five Class I railroads
A developer in the Mobile, Ala., area has announced plans for a logistics park on a 1,300-acre site offering direct connections to five Class I railroads, as well as two Interstates and an adjacent airport. AL.com reports the South Alabama Logistics Park, to be developed by Burton Property Group, won't occupy all of the site, but in its first phase of development will provide more than 6 million square feet of space. The city and county will each spend $3 million to develop roads and related infrastructure at the site. Groundbreaking is slated for June, with the first tenant expected to begin operations about nine months after that.