Sunday rail news:
No one hurt as UP locomotive explodes in Utah's Echo Canyon
No injuries were reported after North Summit, Utah, firefighters were called to a reported explosion of a Union Pacific locomotive in Echo Canyon early Saturday morning. The North Summit Fire District said in a Twitter post that the incident was reported about 3 a.m. Photographs show extensive damage at the rear of AC4400CW No. 6381, a former Southern Pacific unit that was the second locomotive in the consist.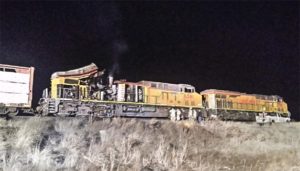 Salt Lake rail bridge continues to burn

A fire involving a railroad bridge in Salt Lake City extended into its third day Saturday, and could continue burning into Monday. The Salt Lake Tribune reports the fire involves a bridge over the Jordan River owned by Patriot Rail's Salt Lake, Garfield & Western, a railroad whose acquisition was just completed by the company last week. The fire was reported Thursday at 9 p.m. and has area residents concerned about the effects of breathing smoke from the creosote used to preserve the wooden bridge. Salt Lake City Fire Department Capt. Anthony Burton said the fire is in a difficult location to access; firefighters in wetsuits have tried to reach the fire from under the bridge, but heavy equipment is being brought in to dismantle the structure. The cause is under investigation.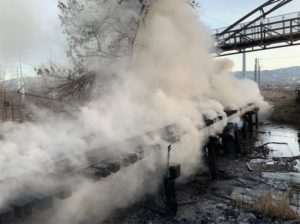 Multiple agencies investigating railcar fire at NC Transportation Museum
An investigation has begun into the cause of a Saturday morning fire involving several railcars at the North Carolina Transportation Museum in Spencer, N.C. The Salisbury Post reports the fire was reported shortly after 7 a.m. and involved cars, owned by the museum or its foundation, on storage tracks on the east side of the museum property. No injuries were reported and no structures were damaged. WBTV reports the cars involved appeared to have been unrestored. Police, fire, and other state agencies are involved in the investigation, which came just two days after reported arson fires in Spencer and Salisbury.