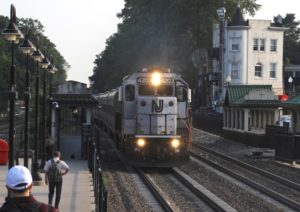 More Monday morning rail news:
NJ Transit PTC extended revenue testing is in progress on eight of 12 lines
NJ Transit says it is now testing positive train control on 66% of its track-miles as it works to meet the Dec. 31, 2020, deadline for PTC implementation. NJ.com reports that eight of the agency's 12 commuter rail lines are now in extended revenue testing — involving testing with trains carrying passengers — while the other four are undergoing field testing of equipment. Terry Fedders, project manager for contractor Parsons Inc., told the NJ Transit board that the project remains on target for "100% completion" by Dec. 31. The Federal Railroad Administration said NJ Transit was at risk of missing the deadline in its most recent quarterly PTC progress report, issued in August [see "FRA says just two commuter lines remain at risk of missing PTC deadline," Trains News Wire, Aug. 12, 2020].
Washington short line tries to find funds for improved replacement for bridge destroyed by fire
The Central Washington Railroad is struggling to find the up to $1 million necessary to build an upgraded version of the Prosser, Wash., trestle destroyed by Labor Day wildfires. The Tri-City Herald reports that the short line leases the route including the trestle from BNSF Railway, but is responsible for all repairs and maintenance. And while insurance will cover the cost of replacing the 679-foot wooden structure built by Northern Pacific in 1941, that money doesn't include the additional $800,000 to $1 million necessary to build a concrete and steel replacement. The newspaper reports that an earlier news release saying Washington Gov. Jay Inslee had requested a disaster declaration to allow the use of federal funds was incorrect [see "Digest: MTA introduces detailed, real-time online subway map," Trains News Wire, Oct. 20, 2020]. The bridge was cited as an example of the damage caused by the wildfires, not as part of the formal requests for funds. The bridge across the Yakima River carries up to 3,600 carloads annually.
Oakley, Calif., begins work on platform for new Amtrak stop
The city of Oakley, Calif., has broken ground on a platform for Amtrak service. The East Bay Times reports the 700-foot platform will enable the Contra Costa County community of 35,000 to be added as a stop for Amtrak San Joaquin service, allowing passengers to reach Oakland in under an hour. The project is expected to be completed by 2022.